9/11 Commission's Lee Hamilton '52 and Thomas Kean Write of CIA Obstruction as Criminal Probe is Launched
January 2, 2008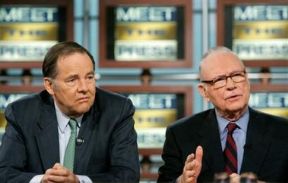 January 2, 2008, Greencastle, Ind. - Writing in today's New York Times, 9/11 Commission co-chairs Lee H. Hamilton and Thomas H. Kean state, "the recent revelations that the CIA destroyed videotaped interrogations of Qaeda operatives leads us to conclude that the agency failed to respond to our lawful requests for information about the 9/11 plot. Those who knew about those videotapes -- and did not tell us about them -- obstructed our investigation." Hamilton is a 1952 graduate of DePauw University. (photo, l-r, Kean and Hamilton on NBC's Meet the Press in December 2005)
The op-ed is published on the day that U.S. Attorney General Michael B. Mukasey announced that a formal criminal investigation has been launched into the destruction of Central Intelligence Agency interrogation videotapes. The Times' Mark Mazzetti and David Johnston write, "The announcement is the first indication that investigators
have concluded on a preliminary basis that CIA officers, possibly along with other government officials, may have committed criminal acts in their handling of the tapes, which recorded the interrogations in 2002 of two operatives with Al Qaeda and were destroyed in 2005."
The essay by Hamilton and Kean details their communications with the C.I.A. as they conducted their investigation into the events leading up to and after the terror attacks of September 11, 2001, and that "videotapes were not mentioned." They conclude, "As a legal matter, it is not up to us to examine the CIA's failure to disclose the existence of these tapes. That is for others. What we do know is that government officials decided not to inform a lawfully constituted body, created by Congress and the president, to investigate one the greatest tragedies
to confront this country. We call that obstruction."
Access the column at the Times' Web site.
Along with James A. Baker III, Lee Hamilton co-chaired the Iraq Study Group. For their work, Hamilton and Baker were listed among "America's Best Leaders 2007" in U.S. News & World Report. Hamilton was also the subject of a lengthy piece in the December 12 Christian Science Monitor. A recent op-ed on the role of Congress, in which Hamilton served for more than 30 years, can be accessed via this previous story.
Back