Newspaper Previews Sunday Evansville Recital by Sarah Masterson '06
January 4, 2008
January 4, 2008, Greencastle, Ind. - "Sarah Masterson, a 2002 Harrison High School graduate in her final semester of the master's piano performance program at the University of Connecticut, will present a free, public recital at 3 p.m. Sunday, Jan. 6, at Trinity United Methodist Church," reports Indiana's Evansville Courier & Press. "As a student at DePauw University in Greencastle, Ind. ... Masterson played with the DePauw Symphony Orchestra," adds the text. Masterson is a 2006 graduate of DePauw. (photo: Ryan Sayers/UConn Daily Campus)
The newspaper adds that Masterson, who majored in physics as an undergraduate, won the 2001 Young Artist competition and "performs frequently with the University of Connecticut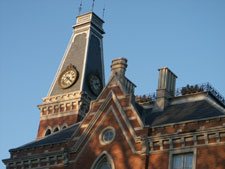 Wind Ensemble and as a soloist at the Benton Museum of Art ... She will finish her master's degree in May and plans to begin work on her doctorate in the fall."
Access the complete story at the Courier & Press' Web site.
Learn more about Sarah Masterson in this story.
Back