Radio's Paul Harvey Pays Tribute to DePauw's Legendary 1933 Football Team
October 7, 1983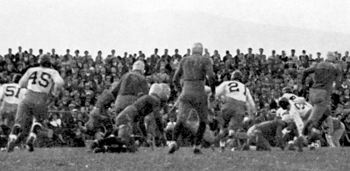 October 7, 1983, Greencastle, Ind. - "Of all the teams in all the autumns in all our land there never was one quite like the DePauw University team of fifty years ago," Paul Harvey told his national radio audience in today's Paul Harvey News. "The boys of 1933 were undefeated, untied, and unscored on. The entire season. Defeated seven opponents by a score of 136 to nothing."
Harvey noted that the team's coach was Gaumey Neal. "Out of his own pocket he helped a lot of boys stay in school during those depression years ... He is gone now. But his widow will be back on campus tomorrow. For the fiftieth anniversary of that most memorable season. And the team. Thirty-three members of the team of 1933 will remember the

season like none other for them or any other, ever, and probably evermore."
The 1933 team is also featured in today's Indianapolis Star. Ten years ago, Coach Neal and his former players were honored at a special Old Gold Day luncheon.
A "Monon Memory" of the Tigers' perfect 1933 season can be accessed here:

[Download Video: "1933 Monon Memory" - 6722kb].
Back