Former Coach Gaumey Neal and His Legendary 1933 Team are Feted at Old Gold Day Luncheon
October 6, 1973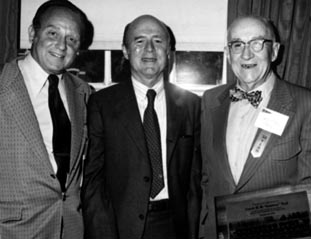 October 6, 1973, Greencastle, Ind. - Raymond R. "Gaumey" Neal, who served as DePauw's head football coach from 1930 to 1945 and led the 1933 team that was undefeated, untied and unscored upon, was honored today. DePauw's Alumni Association presented Neal with a plaque at a luncheon that took place before today's Old Gold Football game with St. Joseph's. (photo, l-r: George Lortz, captain of the '33 team; DePauw President William E. Kerstetter; and Coach Neal, holding plaque)
Members of the 1933 team, who gathered this weekend to recognize the 40th anniversary of their historic season, were also each given small plaques.
Neal came to DePauw in 1929 as assistant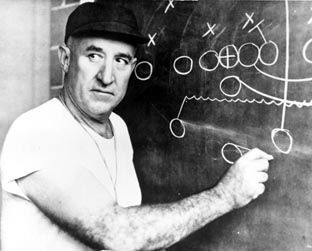 football coach. As head of the program, he compiled a record of 79-34-7.
An alumnus of Wabash College, Neal also attended Washington and Jefferson College and played in the 1922 Rose Bowl against Southern California. He was an all-American tackle and in 1975 was elected to the Indiana Football Hall of Fame.
See a "Monon Memory" of the historic 1933 squad, which can be found in this story.
Back