Republic Would Benefit from More Conversations About Race, Says Cornel West
February 25, 1994
February 25, 1994, Greencastle, Ind. - To talk about racism is to explore the core of American democracy, Cornel West said at DePauw University today. "Those who want this American experiment in democracy to survive must come to terms with white supremacy and its legacy," West, a leading scholar of African-American studies and religion and a best-selling author, told a standing-room-only crowd in Meharry Hall of historic East College.
"The struggle for freedom is specifically the struggle for black freedom," which he identified as anything that "targets white supremacy's assault and attack on black beauty."
Although television is bringing more black Americans and their experiences into the public eye, few white youths have opportunities to interact with African-Americans, says West. Stereotypes remain, and many white children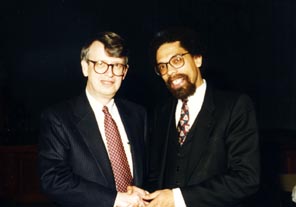 grow up thinking that inner city schools are filled with black students and that black mothers are typically welfare recipients. In truth, says West, Americans lost more money to the robber barons and railroad tycoons of the 1890s -- who were white men -- than to any of "welfare queen" of modern times. And, he asserts, most people don't give credit to the black women of a few generations ago who were domestic workers raising the children of white families while also raising their own offspring. (above right: DePauw President Robert G. Bottoms with Cornel West)
West believes there needs to be more public conversation about racism, which would make people examine their history and the future. "They have to make it a priority," he said, "which reflects in programs and policies that deal with levels of poverty,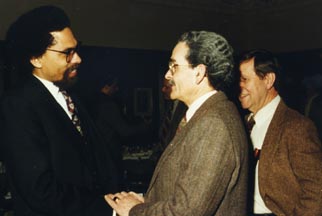 and, of course, concretely takes the form of some substantive investment in inner cities."
He added, "It takes courage to push yourself to the edge of life's abyss, to critique the sensibilities of one's self."
A professor of religion and director of the Program in Afro-American Studies at Princeton, Cornel West has authored nine books, including Race Matters and Keeping Faith.
Back