New York Times Features Butler Coach Brad Stevens '99
January 5, 2008
January 5, 2008, Greencastle, Ind. - Brad Stevens, head men's basketball coach at Butler University and 1999 graduate of DePauw, "has made the transition look easy," states today's New York Times, which features the coach. Stephen Beaven writes, "Stevens is a rookie head coach, one of the youngest in Division I. He was promoted last spring, seven years after giving up a career in the pharmaceutical industry to take a volunteer job in the Butler basketball office." Butler is off to a 12-1 start and among the nation's top 25 Division I teams.
Beaven notes that "even with the added responsibilities and pressure that came with his new job, Stevens has maintained a modest, even-keeled approach ... Stevens hasn't stopped to ponder the significance of his youth or the trajectory of his career. A look at his resume, though, reveals an only-in-Indiana story, fitting for a guy who works at the historic Hinkle Fieldhouse, where part of the movie Hoosiers was filmed."
The Times notes that Stevens played guard at DePauw, where he was a Management Fellow. "After graduating in 1999, he started a marketing job with the pharmaceutical giant Eli Lilly & Company in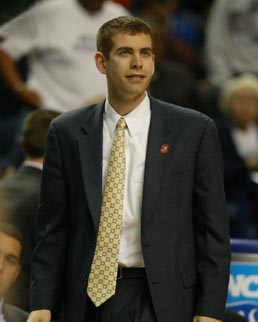 Indianapolis. It wasn't the career he wanted. But Stevens learned a valuable lesson in his brief time at Eli Lilly. A veteran in management pulled him aside one day and told him not to worry about working his way to the top and to focus instead on doing a good job, day in and day out. That's the approach he took when he quit the pharmaceutical business and accepted a job as a volunteer in the basketball office at Butler in June of 2000."
Stevens tells the newspaper, "It was great advice. Because you've got a lot of people always looking for the next step. And that's not what I was doing. I was just trying to figure out a way to win the next game and think like a head coach."
Read the complete article, "Volunteer Turned Head Coach Focuses on the Day in, Day Out," at the Times' Web site.
Learn more about Brad Stevens in this previous story.
Back