DePauw Referenced in New Book, Strong at the Broken Places
January 9, 2008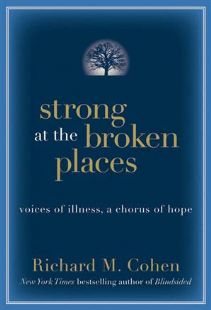 January 9, 2008, Greencastle, Ind. - DePauw University is referenced in Strong at the Broken Places: Voices of Illness, a Chorus of Hope, the new book by award-winning journalist Richard M. Cohen. Published by HarperCollins, the text tells the story of five ordinary people trapped in the complex world of serious chronic illness. Cohen struggles with multiple sclerosis himself.
In a section on one of those individuals, Buzz Bay, Cohen writes, "I had been about to head for Indiana to teach at DePauw University when I received a call from the Leukemia and Lymphoma Society, telling me Buzz was in the hospital. Soon enough, I found myself in Indianapolis, speeding south from the airport with my friend from DePauw." That friend is Ken Bode, Eugene S. Pulliam Distinguished Visiting Professor of Journalism at DePauw, who had invited Cohen to campus to speak with his students.
Lengthy excerpts of Strong at the Broken Places are available at MSNBC.com.
Back