"Soon Many Will Know" Brad Stevens '99: Indianapolis Star
January 6, 2008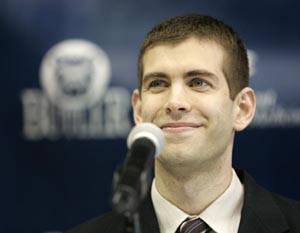 January 6, 2008, Greencastle, Ind. - "Here's what you love the most about (Brad) Stevens, aside from the fact he's made the seamless transition from assistant to head coach and led his team to a 13-1 start: He's a guy who followed his passion, who listened when his heart spoke to him," writes the Indianapolis Star's Bob Kravitz of the men's basketball coach at Butler University. "After his junior year at DePauw, he earned an internship at Lilly, and going into his senior year, he was offered a post-graduate position with the pharmaceutical giant. He had played basketball at DePauw and worked in several summer camps, but here was a chance to take that first step toward financial security. Or not."
"I knew my heart was somewhere else even before I took the job," Stevens, a 1999 DePauw graduate, tells the newspaper. "Early on, I knew I wasn't doing what I wanted to do."
Kravitz details how Stevens took a leap of faith, leaving Eli Lilly & Company in 2000 and taking a volunteer post in Butler's athletic department. Before long he was an assistant basketball coach at the university; on April 5, 2007, he was named to lead the Bulldogs' basketball program. In his first season, Stevens has defeated three coaches who each have won more than 500 games: Bob Knight, Homer Drew and John Beilein.
What attracts Stevens, who was an economics major and Management Fellow at DePauw, to coaching? "The need to continue to compete and see tangible results," he tells the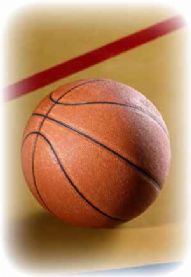 newspaper. "Being a part of a team, a journey, the ups and downs."
The columnist writes, "The hero in the Brad Stevens story isn't, as you would imagine, Brad Stevens -- not entirely, anyway. While it's true that he kicked aside a well-paying job at Lilly to pursue his hoops dream, the person who made it possible was Traci [Wilhelmy] Stevens ['99]. When the two were dating, Brad told her he was quitting this stable job to volunteer in a college basketball program. Fine, she said, follow your heart, but I'm going to law school. Someone has to bring home a regular paycheck. 'Whether she sent me on that path or I sent her on that path, it worked out great for both of us because we got to follow our dreams,' Stevens said. 'We just had to take the time to do it.'"
Access the complete text, headlined "Soon many will know Stevens' name," at IndyStar.com.
Yesterday, Brad Stevens was the subject of a profile in the New York Times.
Back