Orlando Street Signs with Lowercase 'P' Compel David Leighty '63 to Write
January 7, 2008
January 7, 2008, Greencastle, Ind. - David A. Leighty, a 1963 graduate of DePauw University, weighs in on Orlando, Florida's "very inconsistent" residential street signs in today's Orlando Sentinel. In a letter to the editor, he writes, "I assume the College Park area got its name from all the streets named after colleges or universities. But I am a graduate of DePauw (with a capital P) University in Greencastle, Ind. Yet in the College Park area, I've seen it spelled as Depauw. What's going on?"
In his "Road Wise" column today, Jay Hamburg responds that the city's transportation officials agree there are "definitely some inconsistencies. These problems can arise from a variety of causes, including thefact that the database storing the street names is in all-capital letters, said Chris Kibler, signal-systems engineer for Orlando. Kibler said they mean no offense to DePauw University, and he has asked some of the signage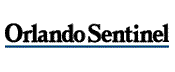 people to start collecting the inconsistencies for review and possible correction as time and budget allow."
Access the item at the newspaper's Web site.
Back