Cathy Day '91 Publishes Second Book, Comeback Season: How I Learned to Play the Game of Love
January 16, 2008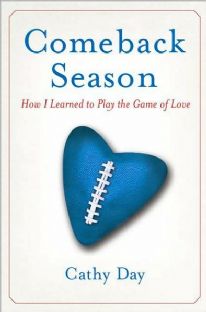 January 16, 2008, Greencastle, Ind. - The second book by 1991 DePauw University graduate Cathy Day arrives in bookstores across America on January 29. Comeback Season: How I Learned to Play the Game of Love, "tells the heartwarming story of how she got back in the game of love -- thanks to her favorite football team, the Indianapolis Colts," according to a synopsis by the book's publisher, Simon & Schuster's Free Press.
"In 2005, Day, an Indiana native, moves to Pittsburgh to start her dream job," continues the summary. "She's thirty-seven, a college professor, an acclaimed writer -- and still single. Psyching herself up, she thinks, 'This is the year for the Colts and for me.' Instead, both Day and quarterback Peyton Manning face heartbreaking end-of-season losses: the man in her life decides to punt, and the Colts fall to the Pittsburgh Steelers, the eventual Super Bowl champs. Her blue heart broken, Day vows that if the Colts can come back in 2006 and try again, so can she."
Cathy Day teaches writing at the University of Pittsburgh. Her first
book, The Circus in Winter, appeared on at least two "Best of 2004" lists and received praise in numerous media outlets -- including the New York Times, Newsday, MSNBC.com and Sports Illustrated -- and was one of three finalists for the Story Prize. The author began working on her first novel while she was a student at DePauw.
Learn more about Comeback Season, and pre-order the title, at Amazon.com and Barnes & Noble.com.
The theme of Day's new book was the subject of an essay she wrote last February for Sports Illustrated.com.
Back