Island "Buzz" Has Coach Dick Tomey '60 Possibly Returning to U of Hawaii
January 9, 2008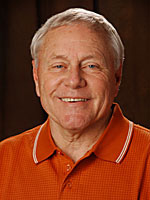 January 9, 2008, Greencastle, Ind. - "Dick Tomey was considered the savior of University of Hawaii football nearly 30 years ago. Now there is an increasing buzz on the islands that the San Jose State coach is the best man to play that role again," notes today's edition of California's San Jose Mercury News. Tomey, a 1960 graduate of DePauw University, has led San Jose State University's football program the last three seasons.
Laurence Miedema writes, "Tomey's name surfaced over the weekend as a potential candidate to replace coach June Jones, who shocked UH fans and administrators when he accepted a five-year, $10 million deal from Southern Methodist University. The Tomey-to-Hawaii rumors intensified Tuesday after school officials bought out the contract of embattled athletic director Herman Frazier and it became clear Tomey might be more of a candidate for that position."
Tomey served as Hawaii's head football coach from 1977 to 1986. He coached the University of Arizona from 1987-2000, and has held the reins at San Jose State since 2005. Tomey's career record is 175-129-7 and he is the seventh winningest active coach in college football.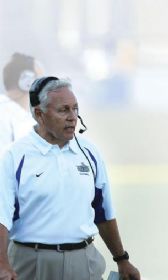 "If there is anybody who understands and knows exactly what needs to be done, it's Coach Tomey," Blane Gaison, who played quarterback for Tomey's Hawaii teams in the early 1980s, tells the newspaper. Now a high school athletic administrator near Honolulu, Gaison adds, "Most of the people here consider him one of ours. The June situation was devastating. But to have Coach Tomey's name out there, knowing there is a great possibility to get him back here excites a lot of people."
Read the complete article at the Mercury News' Web site.
Learn more about Dick Tomey in this previous story.
Back