Palestinians Need $238 Million in Emergency Aid, Says UNRWA Chief Karen Koning AbuZayd '63
January 10, 2008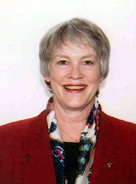 January 10, 2008, Greencastle, Ind. - "The situation on the ground has deteriorated in recent months," says Karen Koning AbuZayd, commissioner-general of the United Nations Relief and Works Agency (UNRWA). The 1963 graduate of DePauw University oversees the UN agency that provides humanitarian assistance to Palestinians in the West Bank and Gaza. She tells the Middle East Times, "From my offices in Gaza City I have witnessed first hand the pace and the extent of this decline."
AbuZayd "has made an emotional appeal for $238 million in emergency assistance for Palestinians in 2008 to ease the chronic unemployment, malnutrition and poverty that is gripping the occupied territories," reports the Times'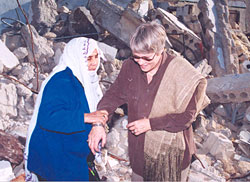 Mel Frykberg.
AbuZayd, who delivered the commencement address to DePauw's Class of 2007 last May, states, " In Gaza, the entire population -- 1.5 million persons, including 1 million refugees -- are living under conditions of feudal siege, with borders closed to all but humanitarian goods and major reductions in the flow of electricity and fuel."
Frykberg notes, "The primary cause for the deteriorating situation is a crippling international embargo, compounded by an Israeli siege on the Gaza strip. The embargo followed the victory of Hamas in democratic legislative elections that were supervised by international observers and monitors including former U.S. President Jimmy Carter, in January 2006. Following the elections Israel withheld PA customs and VAT revenues, which are major sources of Palestinian public revenue.
The situation was compounded by the withdrawal of international aid and resulted in an acute fiscal crisis characterized by the non-payment of public sector wages and the weakening of government."
Read the complete text at the newspaper's Web site.
Learn more about Karen Koning AbuZayd in this previous story.
Back