NJ Governor Asks Former Political Foe Bob Franks '73 to Lead "Important Fight"
January 9, 2008
January 9, 2008, Greencastle, Ind. - Bob Franks, the former U.S. Congressman and 1973 graduate of DePauw University, lost to Jon Corzine in a 2000 U.S. Senate race, but the two are now political partners. Corzine -- who is now governor of New Jersey -- today appointed Franks "to lead the campaign to approve his plan to increase tolls to cut state debt and pay for transportation work," reports New York's Newsday.
"You may ask how a fiscally conservative Republican like myself could find common ground with a liberal Democrat like Jon Corzine," says Franks, who served four terms in the U.S. House of Representatives. "The answer is simply that the governor has broken with tradition in Trenton and declared that we have to transform the way we handle the state's finances."
Gov. Corzine, who narrowly defeated Franks in the 2000 contest, declared, "A little over seven years ago Congressman Franks was my opponent in the race for U.S. Senate and today he joins us in what could prove to be our most important fight. Bob's extraordinary leadership skills in this endeavor to help right New Jersey's financial ship is a shining example of the fact that our financial challenges do not know party lines and that our solutions shouldn't either,"
Corzine's plan would "increase highway tolls 50 percent in 2010, 2014, 2018 and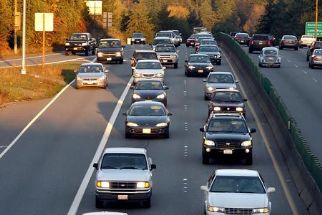 2022. Those increases would include adjustments to reflect inflation. After 2022, tolls would increase every four years to also reflect inflation." The newspaper's Tom Hester Jr. adds, "Corzine wants to create a nonprofit agency that would manage the toll highways and issue bonds to bring the state a large cash infusion to pay debt and fund transportation. The bonds would be paid back by the increased tolls."
Access the complete story at Newsday's Web site. A sidebar notes Franks' DePauw degree.
Learn more about Bob Franks, president of the HealthCare Institute of New Jersey, in this previous article.
Back