Prof. Fred Bergmann Publishes "Milestone": The Plays of David Garrick
September 24, 1980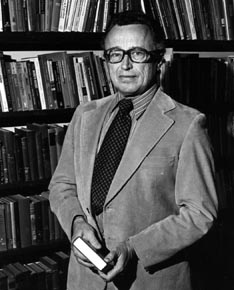 September 24, 1980, Greencastle, Ind. - The culmination of more than 30 years of scholarly research by Fredrick L. Bergmann, James Whitcomb Riley Professor of English Literature at DePauw University, has produced two volumes which critics are calling a "milestone" and a "paragon of scholarly editorship." Bergmann has co-authored the first two volumes of a six-volume series, The Plays of David Garrick.
Published by Southern Illinois University Press, the series represents the first attempt since 1798 to publish the complete works of the famous British actor and stage manager of London's Drury Lane Theatre. Publication of the first two volumes coincides with the 200th anniversary of Garrick's death. Two more volumes will be released next year with the final pair set to come out in 1982, according to SIU Press.
Bergmann's interest in the 18th century playwright began with his own doctoral thesis at George Washington University in 1949. His mentor,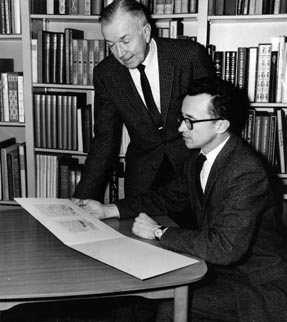 George Winchester Stone, recently published a prize-winning biography of Garrick. (at right: a file photo of Bergmann with Professor Jerome C. Hixson, who retired from the DePauw faculty in 1967)
Dr. Bergmann and his co-author, Harry William Pedicord of Thiel College (Pennsylvania), determined that Garrick wrote nearly 50 plays. Their scholarly investigation, ranging from California to London, was hampered by the fact that Garrick did not put his name on many of his manuscripts. This diminished -- as far as theatrical observers knew -- his apparent "conflict of interest" between theatre manager (who chose plays) and playwright (who wished them produced).
The co-authors' first two volumes contain the text of 22 plays, plus critical commentaries and exhaustive word-by-word comparisons of each successive version of each play. One Garrik play appeared in 15 versions or editions.
"The presentation is a paragon of scholarship editorship," says A.M. Nagler, Henry McCormick professor emeritus of dramatic history at Yale University's School of Drama. "I appreciate the emphasis on
stage history throughout the commentaries since only a theatre historian can do justice to these afterpieces of Garrick's adaptations ... They reflect the cultural spirit of an entire century."
Adds Bergmann's mentor, Professor Stone, emeritus executive director of the Modern Language Association: "Both of us know that the great reward of teaching is to have some good students who take fire and become in their time intellectual colleagues; both of us have had a number of such students. But the greatest reward is to have a student who carries on and produces fine work outside of the classroom as well as in it -- work upon which others can build." Stone says of his former pupil, "I am proud of you."
Fred Bergmann earned his A.B. from Washburn College (1937); the M.A. from Washington State University (1939); and the aforementioned Ph.D. from George Washington in 1953. He joined the DePauw faculty in 1940.
Learn more about the professor in this previous story.
Back