Indianapolis Star Features New Book by Prof. Fred Bergmann
July 2, 1967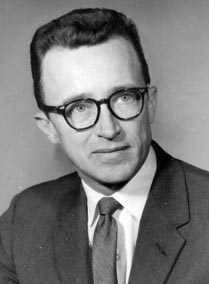 July 2, 1967, Greencastle, Ind. - "High schools and colleges have not taught people how to write adequately, so a despairing DePauw University professor of English has turned to having the students teach themselves," begins a story published in today's Indianapolis Star. "Dr. Fred L. Bergmann, head of DePauw's English department, wrote a workbook designed to allow students to practice the basics of paragraph writing," writes Howard Smulevitz.
The article notes that Bergmann's book, Paragraph Rhetoric, was financed by a grant from the U.S. Department of Health, Education and Welfare through the Great Lakes Colleges Association (GLCA), and was tested at DePauw, Kalamazoo College and Ohio Wesleyan University.
"The book really does teach," says Ohio Wesleyan's Dorothy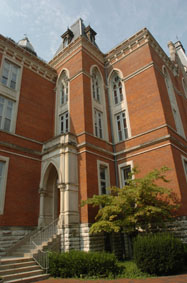 Whitted, who used Bergmann's text with her students.
Dr. Bergmann is quick to note that his book "is not intended to make anyone a novelist. We just want the students to be able to present facts in an orderly and interesting way, because they'll have to write plenty of reports and business letters when they're out of school and working."
Smulevitz reports, "Using the programmed approach -- the accumulation of knowledge or ability through drill with a series of increasingly harder exercises -- the book stresses writing clearly, and, more importantly, effectively, Dr. Bergmann said."
"You can make your meaning clear and still be dull," the professor tells the newspaper.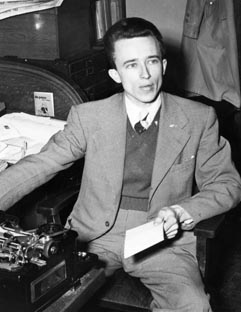 "The cycle is that [elementary and high school] teachers were sent through college themselves without the training to write or teach writing, and they turn out pupils who come to college needing, but unlikely to get, such training," Bergmann asserts. "While the English allow their youngsters to work on writing from the earliest school years, it has been the custom to delay writing practice in American schools, sometimes until halfway through high school," he adds.
Fredrick L. Bergmann has been a member of the DePauw faculty since 1940 and has been head of the English department since 1956.
Learn more about the professor in this previous story.
Source: Indianapolis Star
Back