DePauw Chamber Singers Embark on Tour of China
January 10, 2008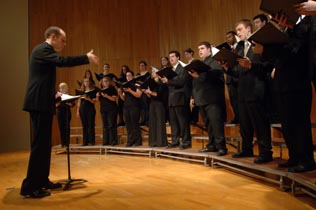 January 10, 2008, Greencastle, Ind. - The DePauw University Chamber Singers departed early this morning to begin their twelve-day concert tour of China. Over the next week and a half, the Chamber Singers will visit Beijing, Wuhan, Nanjing, Hangzhou and Shanghai, performing six concerts.
DePauw's student musicians will showcase their talents in many of China's most famous concert halls and music conservatories. The itinerary includes the following dates, cities and venues:
January 14 - Beijing (Harrow School)
January 15 - Wuhan (Hubei University)
January 17 - Nanjing (Art Institute)
January 19 - Hangzhou (Zhejiang University)
January 21 - Shanghai (Conservatory of Music)
January 22 - Shanghai (American School)
The concert tour, titled "A Farewell to Arms" features a wide variety of music ranging from English anthems to American folksongs to Chinese folksongs. Highlights of the concert with include pieces by 2008 "Music of the 21st Century" composer, Chen Yi, and the Richard Rodney Bennett work, A Farewell to Arms, featuring cello professor Eric Edberg as a guest peformer.
Visit the DePauw University School of Music online.
Back