Author and Journalist Richard M. Cohen to Discuss Strong at the Broken Places, February 11
January 17, 2008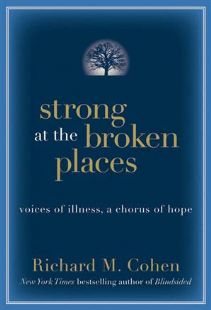 January 17, 2008, Greencastle, Ind. - Richard M. Cohen -- a three-time Emmy Award winner and author of the new book, Strong at the Broken Places: Voices of Illness, a Chorus of Hope -- will come to DePauw University on Monday, February 11. The program, presented by the Gertrude and G.D. Crain Jr. Lecture Series, begins at 4:15 p.m. in the Pulliam Center for Contemporary Media's Watson Forum. The public is invited to this free event.
Cohen's acclaimed new book, which was released January 2, tells the story of five ordinary people trapped in the complex world of serious chronic illness. Cohen struggles with multiple sclerosis himself and authored the 2004 memoir, Blindsided: Lifting a Life Above Illness, which the New York Times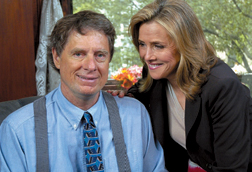 hailed as "powerful" and the Chicago Tribune called a "warm, sarcastic, unflinching dissection of love, pain, laughter and wounded pride." Ultimately, the book spent seven weeks on the New York Times bestsellers list. (at right: Cohen with his wife, NBC Today anchor Meredith Vieira)
Cohen, former senior news producer for CBS and CNN, says his new book "profiles five families dealing with serious chronic illness: a woman with ALS, a guy with non-Hodgkin's lymphoma, a young woman with Crohn's disease, a
college freshman with muscular dystrophy, and a very interesting guy with bipolar illness. These illnesses wreak havoc in all kinds of different ways, but there's enormous common ground in the emotional impact of illness and the need to rise above it, grab your life, and go where you want to go. I think all of us with chronic illness have something to say to each other."
This month, Cohen told U.S. News & World Report, "Despite the fact that 90 million Americans have some form of chronic illness, we often marginalize sick people. I recently walked into a bar mitzvah, and this usher saw me with my cane and ignored me. When my wife walked in, he asked her, 'Where would he like to sit?'" The title of his book, Cohen told the magazine, is "a quote from Hemingway's A Farewell to Arms, 'The world breaks everyone, and afterward many are strong at the broken places.' None of the people I profiled are victims; they know that's the kiss of death. I believe we can take what hurts most and gain strength from it."
Strong at the Broken Places mentions DePauw, as you'll learn in this previous story.
Endowed by Rance Crain, president of Crain Communications and a member of DePauw's Class of 1960, and moderated by Professor Ken Bode, the Gertrude and G.D. Crain Jr. Lecture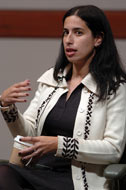 Series honors Mr. Crain's parents. Previous Crain Lecturers have included: Indiana Governor Mitch Daniels; David Keene, chair of the American Conservative Union; Roger Wilkins, a noted civil rights leader, historian, and Pulitzer Prize-winning journalist; military sociologist Charles Moskos; Pulitzer Prize-winning novelist Richard Ford; Father Richard P. McBrien, Crowley-O'Brien Professor of Theology at the University of Notre Dame and a consultant to ABC News for papal events; political analyst Charlie Cook; Wall Street Journal reporter and 1996 DePauw graduate Aaron Lucchetti; veteran political columnist Jack Germond; Samantha Power, author of A Problem from Hell: America and the Age of Genocide; Emily Wax (pictured at right), Africa bureau chief of the Washington Post, and her husband, Raymond Thibodeaux, who also covers the region for Cox News, Voice of America and the Boston Globe; Tim McCaughan, senior White House producer for CNN and 1993 graduate of DePauw University; historian Douglas Brinkley, author of Tour of Duty: John Kerry and the Vietnam War; and Joe Trippi, who managed Howard Dean's presidential campaign.
Back