NBC-TV's David Brinkley Speaks at DePauw
January 7, 1974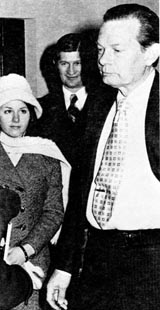 January 7, 1974, Greencastle, Ind. - NBC television commentator David Brinkley told an audience at DePauw University today that he doubts Congress can impeach President Richard Nixon, unless it "can prove some specific violation of a specific law that is clearly understood by Americans as a specific violation. It will have no political benefit to Congress," he said.
Brinkley spoke to a packed Gobin Church. His speech launched DePauw's 1974 Winter Term lecture series.
The veteran broadcaster and political watcher predicts Gerald Ford will be the Republican party's presidential nominee in 1976 and that Democrats will find him "very hard to beat. As for the Democrats, I haven't got the faintest idea" who will emerge as the front-runner.
There is a fuel shortage, Brinkley told his DePauw audience, "But I don't know how much because there is no way of finding out. One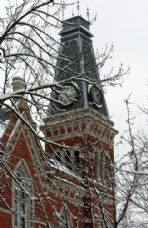 expert tells you one thing and another expert another." He expects oil from the Middle East to return to U.S. service stations but "at a much higher price."
Government has too much power these days, added Brinkley. "We can vote against any tax increase whatsoever because the government already has so much money it uses it like waste paper to buy more power."
This is DePauw's fourth Winter Term. Lasting most of the month of January, it is a period in the academic year when students depart from their regular course of study to pursue programs and activities of particular interest to them. Faculty approval and sponsorship are required for each project.
Back