East College Officially Becomes a National Landmark
October 17, 1975
October 17, 1975, Greencastle, Ind. - It's official: after more than a century as a centerpiece of the campus, DePauw's East College has been entered in the National Register of Historic Places. The University received notification of the designation, which was made on September 25, from U.S. Congressman John Myers (R-Indiana).
One of the Midwest's oldest educational buildings still in use, East College is considered one of the best examples of composite architecture so typical of late nineteenth century styles found in America. The building has been in continuous use since its cornerstone was laid in 1871. The clock tower and bell, which still rings to announce classes and athletic victories, were added in 1879.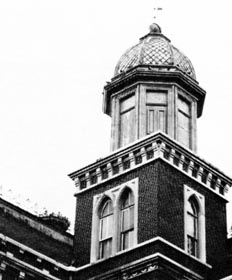 "East College personifies much of what DePauw University has meant to its many alumni, faculty, students and other friends throughout the nation and the world," says Rep. Myers. "Its individual aesthetic, historic and sentimental significance is beyond measure," he added.
The building's roof design is classified as French mansard. The arched heads on windows and some entryways are derived from the Gothic influence. Handsome ornamental ironwork graces the ridge line of the roof. Detailing of the building is extremely ornate with the use of stamped metal, cast iron, native limestone and brick dominating.
DePauw's Board of Trustees has approved major restoration of East College. The project, estimated to cost more than $1 million, was authorized following a three-year study by a campus committee and architectural counsel.
Back