Prof. Tom Chiarella Ponders, 'Does Las Vegas Have a Soul?'
November 23, 2007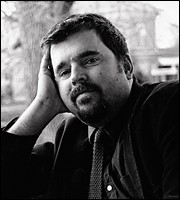 November 23, 2007, Greencastle, Ind. - "We all experience moments of soullessness," writes Tom Chiarella, visiting professor of creative writing at DePauw University, in the current issue of Las Vegas Weekly. "And the mistake of people who write off Vegas for not having a soul is that they forget that. Sometimes the soul recedes, but it does not wither out."
Chiarella, fiction editor for Esquire magazine, is one of several writers called upon to consider the question, "Does Las Vegas have a soul?"
Access his essay, "If there are no
secrets then there is no heart," at the publication's Web site.
A DePauw faculty member since 1988, Tom Chiarella has authored the books Foley's Luck, Writing Dialogue and Thursday's Game: Notes from a Golfer with Far to Go. In the September Esquire, he offered his thoughts on "How to Own the Room," with an assist from actor Jeff Daniels. Read more in this previous story.
Back