13-7 Win Over Wabash Closes Tigers' 7-1 Season
November 21, 1931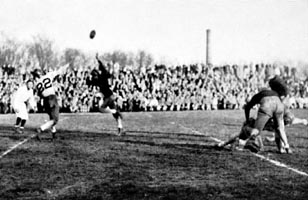 November 21, 1931, Crawfordsville, Ind. - A 35 yard touchdown pass from DePauw quarterback Don Wheaton to Robert Bradley in the fourth quarter decided today's game with Wabash College, giving the Tigers a 13-7 victory in the annual rivalry game. The two teams began facing each other on the gridiron in 1890. (photo at left shows the game-winning connection)
Wabash started the scoring in the first quarter when an interception by "Buzz" Smith set up a Little Giant touchdown, and the home team held a 7-0 lead at halftime.
In the third quarter, DePauw's Wheaton scampered 15 yards around the right end for a touchdown, but his extra point kick was no good.
The touchdown and successful kick in the fourth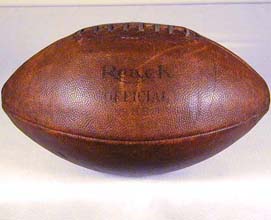 stanza ends the Tigers' season with a 7-1 record. Wabash winds up at 3-5-1.
View a "Monon Memory" of the 1931 DePauw-Wabash football battle here:

[Download Video: "1931 Monon Memory" - 3222kb]. A complete roster of the video clips -- written, produced and narrated by 1982 DePauw graduate Ken Owen -- can be accessed by clicking here.
For comprehensive information on one of college football's greatest rivalries -- which in 1932 introduced a 300-pound locomotive bell as its prize -- visit the Monon Bell Web page.
Back