US Assistant Secretary of Labor David James '94 Here for February 18 Crain Lecture
February 9, 2008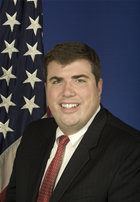 February 9, 2008, Greencastle, Ind. - David W. James, Assistant United States Secretary of Labor for Public Affairs and 1994 graduate of DePauw University, will return to his alma mater on Monday, February 18. James will present the Gertrude and G.D. Crain Jr. Lecture at 4:15 p.m. in the Pulliam Center for Contemporary Media's Watson Forum. The event, which will be moderated by Ken Bode, Eugene S. Pulliam Distinguished Visiting Professor of Journalism at DePauw, is free and open to all.
James was nominated by President George W. Bush to his current post on June 18, 2007 and was confirmed by the U.S. Senate on August 3, 2007. He came to the U.S. Department of Labor's Office of Public Affairs in March 2005 with extensive experience in media relations which began in 1995 with then-U.S. Senator John Ashcroft. James served the entire Senate term with Ashcroft in a variety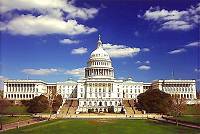 of press capacities and served on both the 1994 and 2000 Senate campaigns of Ashcroft, the latter as communications director.
The DePauw political science major went on to serve in the Office of Public Affairs at the U.S. Department of Justice and as a detailee in the White House Office of Communications. James was executive director of the Missouri Republican Party's Victory 2002 effort which helped retake the Missouri House for Republicans for the first time in 48 years.
In 2003-04, James served as regional spokesperson for the Republican National Committee under the leadership of Chairman Ed Gillespie. He handled the press operations for the national office for twelve Midwestern states, and served as the on-the ground-spokesperson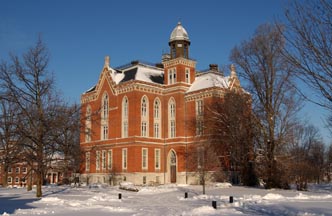 during the 2004 Iowa Democrat Caucuses. He also assisted in the RNC's war room effort during the Democratic Convention in Boston in 2004.
David James' biography notes that "he enjoyed an active career during college as a radio commentator, host, and journalist. James received an award for 'Best Documentary' from the Society of Professional Journalists/Sigma Delta Chi. James also served as vice president of the College Republicans and as social chairman of his fraternity." It adds, "James got his start in government and politics during his college years working on a local Congressional campaign for George 'Bert' Walker, a research assistant for the Republican National Committee in 1992, and as staff assistant for U.S. Senator John C. Danforth in his St. Louis District Office."
The Gertrude and G.D. Crain Jr. Lecture Series honors Mr. Crain's parents. Richard M. Cohen, author of Strong at the Broken Places: Voices of Illness, a Chorus of Hope, will speak Monday afternoon.
Previous Crain Lecturers have included: military sociologist Charles Moskos; Sarah Shepherd, senior producer for CNN's Larry King Live and 1997 graduate of DePauw University; historian Douglas Brinkley, author of Tour of
Duty: John Kerry and the Vietnam War; Indiana Governor Mitch Daniels; award-winning reporter Jerry Mitchell and civil rights activist Rita Bender, the widow of slain civil rights worker Michael Schwerner;David Keene, chair of the American Conservative Union; New Orleans-based journalist Clancy DuBos; Roger Wilkins, a noted civil rights leader, historian, and Pulitzer Prize-winning journalist; Pulitzer Prize-winning novelist Richard Ford; Father Richard P. McBrien (pictured), Crowley-O'Brien Professor of Theology at the University of Notre Dame and a consultant to ABC News for papal events; political analyst Charlie Cook; veteran political columnist Jack Germond; Samantha Power, author of A Problem from Hell: America and the Age of Genocide; Emily Wax, Africa bureau chief of the Washington Post, and her husband, Raymond Thibodeaux, who also covers the region for Cox News, Voice of America and the Boston Globe; FactCheck.org director Brooks Jackson; and Joe Trippi, who managed Howard Dean's presidential campaign.
Back