Mentoring Program Launched by Nancy Stimson '68 Spotlighted
January 15, 2008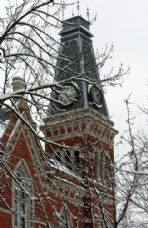 January 15, 2008, Greencastle, Ind. - "I'm the founding director and chief go-fer," says Nancy (Englehart) Stimson of Freewheelin' Community Bike Cooperative, a mentoring program she started in Indianapolis. The project launched by Stimson, a retired pastor and 1968 graduate of DePauw University, is featured in the Indianapolis Star.
"Freewheelin' Bikes, as it's more commonly known, opens its doors three times a week inside Tabernacle Presbyterian Church, 418 E. 34th St.," writes Abe Aamidor. "About 10 adult volunteers work with area youths to teach basic mechanical skills, help them earn credits toward a bicycle of their own, and especially to foster a positive relationship with others ... Freewheelin' Bikes received a grant from the Central Indiana Bicycling Association, enabling Stimson to buy some bike stands and tools. Bicycles and parts have been donated by friends and well-wishers. A growing collection of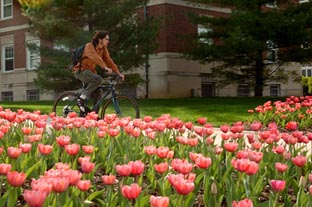 refurbished older bikes is offered for sale at less than $150 each, with all profits plowed back into the project."
"It's a mentoring program," says Joseph Reaves, a local pastor and Freewheelin' Bikes volunteer. "And it works. We've got kids in the program who are ready to listen."
"This is my day job now," Stimson tells the newspaper. "Before I started this, I was a bigger bicyclist than I am now because I never have a chance to get out."
Read the complete article at the Star's Web site.
Back