Indianapolis Star Notes Tony Blair's Upcoming Ubben Lecture
January 17, 2008
Also: Original Announcement of Tony Blair's Ubben Lecture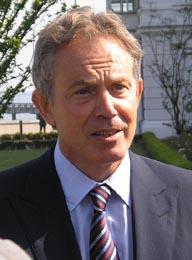 January 17, 2008, Greencastle, Ind. - "The man who led Great Britain for more than a decade will give a free speech at DePauw University in March," notes today's Indianapolis Star. The "Just 1 Minute" column on the front of the newspaper's Metro & State section continues, "Tony Blair joins such past guests of the Greencastle university as Benazir Bhutto, Colin Powell, Spike Lee and Peyton Manning."
It adds, "The Ubben Lecture Series speech is at 7:30 p.m. March 3 at the Lilly Center's Neal Fieldhouse. Seating is first come, first served, with no advance tickets."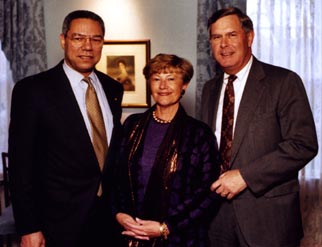 Accompanying the text and a color photo of Blair in the Star is this "By the Numbers" fact: "5. Number of British prime ministers, including Tony Blair, who have spoken at DePauw."
Learn more about the upcoming event in the original announcement.
Endowed by Timothy and Sharon Ubben, both 1958 graduates of DePauw, the Ubben Lecture Series is designed to bring the world's top leaders, thinkers and creative minds to the Greencastle campus. To view a complete roster of Ubben Lecturers, which includes links to video clips and news stories, click here. (above right: Gen. Colin Powell with Sharon and Tim Ubben)
Back