"Vigor and Sass" of Journalist David Greising '82 Cited by Chicago Reader
January 17, 2008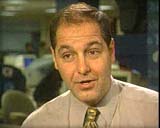 January 17, 2008, Greencastle, Ind. - Longtime Chicago journalist Paul O'Connor "would like to see the local press cover Chicago the way the Economist covers it, as a city of the world," reports the Chicago Reader. "O'Connor believes the Tribune should send its staff out into the world to look for stories that matter to Chicago and explain how they do. He thinks David Greising is the paper's 'poster child.'" Greising is a 1982 graduate of DePauw University.
The article by the Reader's Michael Miner examines the importance of strong newspapers to creating the perception that Chicago is a "global city." He writes, "From 1998 to 2003, Greising wrote a column for the front page of the business section that had the vigor and sass of a sports column. In 2003 the Trib tried to move the column to page two, so Greising stopped writing it. The shift of pages would have changed the message from 'you've got to read this guy' to 'he's not so important.' O'Connor thinks the paper lost its nerve."
Access the complete story here.
Greising, chief business correspondent for the Tribune, continues to contribute stories that he files from Chicago and around the world. Today, he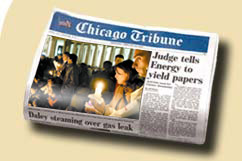 reports that "the first flight of the new 787 Dreamliner airplane has been postponed yet again."
The former Atlanta bureau chief for Business Week magazine, Greising is the author of I'd Like the World to Buy a Coke: The Life and Leadership of Roberto Goizueta and co-authored Brokers, Bagmen and Moles: Fraud and Corruption in the Chicago Futures Market. Greising and his wife, Cynthia Hedges Greising ('82), collaborated on the children's book, Toys Everywhere!.
In 2006, David Greising won the Peter Lisagor Award for Exemplary Journalism. Learn more in this previous story.
Back