Football Card of Dave Finzer '82 is Issued
August 8, 1985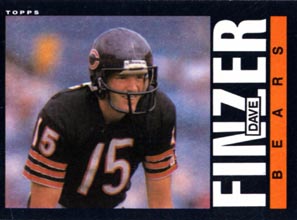 August 8, 1985, Greencastle, Ind. - Dave Finzer of the Chicago Bears "led the NFL in punts inside the 20-yard line with 26 in 1984," notes the back of his new Topps football card. It lists DePauw University as Finzer's college (he is a member of the Class of 1982 and transferred from the University of Illinois, where he also punted and placekicked). The card also states that Finzer "had (a) 52-yard field goal at DePauw."
The card, #26 in the 1985 set, points out that Finzer "had an 87-yard boot vs. Saints, October 7, which was the 5th-longest in NFL history and 2nd-longest for the Bears. Dave punted 11 times for 413 yards at San Diego, December 3, setting club records for punts in one game."
Finzer punted 83 times for 3328 yards -- or 40.1 yards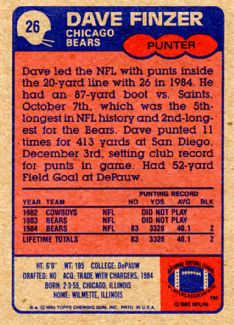 per kick -- last season. The Bears finished with a 10-6 record and as champions of the NFC Central. Chicago lost in the conference championship game to the eventual Super Bowl champions, the San Francisco 49ers.
Dave Finzer was acquired by the Bears in a trade with the San Diego Chargers in 1984. Finzer was in the Dallas Cowboys camp in 1982 and signed a free agent contract with the Bears in April 1983, but did not make the team that season.
Learn more about DePauw football at the program's Web site. Also available is this recent article.
Founded in 1938, Topps is an international marketer of entertainment products, principally collectible trading cards, confections, sticker collections, and collectible strategy games.
Back