Hope-Calvin Basketball Rivalry Takes a Page from the Monon Bell Classic's Playbook
January 18, 2008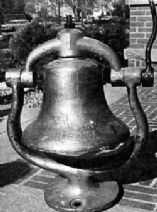 January 18, 2008, Greencastle, Ind. - The basketball rivalry between Hope College and Calvin College is taking a page from the storied annual battle for the Monon Bell. Hope and Calvin meet January 26 for the 167th time, and the contest will be televised by CSTV and enjoyed at alumni parties across the nation. Michigan's Lansing State Journal notes, "The 'satellite parties,' today hosted in New York, Los Angeles, and 68 other locations in between, were started in 1999 after representatives from both schools discovered a satellite broadcast of the Monon Bell rivalry, an annual small college football matchup between DePauw University and Wabash College."
Read the complete newspaper story by at the State Journal's Web site.
The DePauw-Wabash football rivalry dates back to 1890. Wabash holds a razor thin lead in the all-time series, 53-52-9, while DePauw has the advantage in games played for the Monon Bell to 36-34-6. This year's contest was decided by a 47-yard field goal as time expired.
The past two games have aired on HDNet, which will also provide national, high definition telecasts of the 2008 and 2009 battles for the bell. Over the years, the game has also been seen on ABC and ESPN2.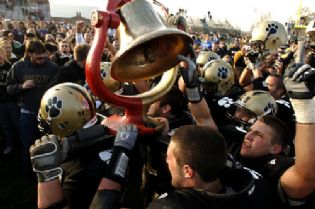 For comprehensive information on one of college football's greatest rivalries, visit the Monon Bell Web page. A total of 77 "Monon Memories" video clips -- covering every game since 1931 -- can be found by clicking here.
A very limited supply of 2007 Monon Bell DVDs remains available. You'll find details on the disc and a link to an online order form in this previous story.
Back