Hoops Transition from Todd Sturgeon '88 to Royce Waltman Smooth for UIndy
January 18, 2008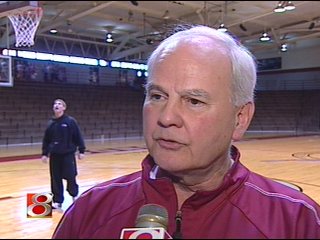 January 18, 2008, Greencastle, Ind. - "With nearly 40 years on the sidelines from assisting Bob Knight at IU to leading DePauw, Indy and ISU, (Royce) Waltman says its all about making kids do what they don't want to do on the court," notes a WISH-TV report on the University of Indianapolis interim head men's basketball coach. The story notes that the Greyhounds are 10-4 "and sitting near the top of their Division II conference. It's impressive, especially after losing their coach just before the season started."
The Indianapolis CBS affiliate details how Waltman took the reins at UIndy after Todd Sturgeon (pictured at right) -- a 1988 DePauw graduate who played for Waltman as an undergraduate and later served as a Tiger assistant coach -- resigned in October.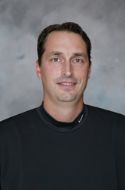 "It hasn't been real hard because Sturgeon, the previous coach, played for me, was an assistant for me, so we teach a lot of the same things," Waltman tells the television station. "He does not recruit knuckleheads We have good students, good guys on the team. We still have a ways to go, but it's not like taking over a strange team."
Read the full article, "U of Indy coach's return impressive," at WISH's Web site.
Learn more about Royce Waltman -- who led DePauw from 1987-1992 and posted a 99-38 record -- in this previous story.
Back