Don Wheaton's Late Heroics Give Tigers 7-6 Triumph Over Wabash
November 22, 1930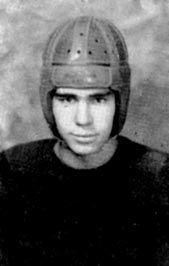 November 22, 1930, Greencastle, Ind. - The heroics of DePauw University halfback Don Wheaton gave the Tigers a 7-6 victory over rival Wabash College this afternoon and ended the home team's strong season with a 6-1 record. A record crowd of approximately 4,000 fans gathered at Blackstock Field to watch the battle between the two schools, which was first fought in 1890.
In the first quarter, Wabash's Ralph Weingartner blocked a DePauw punt and the Little Giants took possession at the Tigers' 30 yard line. Three plays later, the visitors scored a touchdown. However, the extra point -- a problem area for Wabash all season -- was no good.
In the fourth quarter and with about 12 minutes left in the game, Wheaton connected with Forrest Crain on a TD pass to tie things up. On the all-important extra point attempt, Wheaton fumbled a bad snap from center, but scooped up the pigskin and squirmed around the left end to give DePauw a one point win to cap new coach (and Wabash graduate) Raymond "Gaumey" Neal's first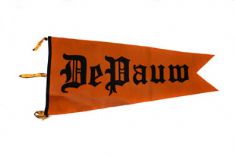 season as head coach.
View a "Monon Memory" of the 1930 DePauw-Wabash football game here:

[Download Video: "1930 Monon Memory" - 3945kb]. A complete roster of the video clips -- written, produced and narrated by 1982 DePauw graduate Ken Owen -- can be accessed by clicking here.
For comprehensive information on one of college football's greatest rivalries -- which in 1932 introduced a 300-pound locomotive bell as its prize -- visit the Monon Bell Web page.
Back