Students' Winter Term Experience at Sundance Film Festival Noted in KC Star
January 19, 2008
January 19, 2008, Greencastle, Ind. - After a screening of the new film, In Bruges, at Sundance Film Festival, the Kansas City Star's Aaron Barnhart boarded a bus with others who had attended the screening. "The two who sat next to me were Mary and Melissa, English-lit majors at DePauw University in Indiana," he writes in the newspaper. "They explained to me how, during the semester break, they could come to Sundance and earn school credit. Lucky kids!"
The students -- Melissa Schultheis and Mary Stoecklein -- are in Utah as part of a Winter Term project being led by DePauw professors Peter Graham and Lili Wright. The DePauw group is attending the Sundance and Slamdance film festivals in a class designed to "give students a working vocabulary to talk and write about film. Class will begin in Greencastle with a crash course in the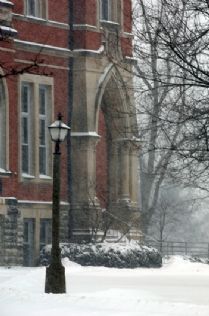 history of independent film," noted the description of the project. "Then we'll fly to Park City, Utah, where students will see at least 10 movies and write film reviews on at least two of them. There will be a wide variety of films shown at the festivals -- from feature films, dramas and documentaries, to foreign films, animation, and shorts. Student will also attend and report on film workshops, conferences and technology seminars; and,will interview at least one professional filmmaker or actor and write a short profile. Finally, throughout the trip, students will keep a journal of their impressions of the festival, notes from symposiums, panels, and interviews with people they meet."
Read more by clicking here.
The Star's Barnhart writes, "Melissa was wearing a warm-looking two-tone knit cap that said In Bruges. She needed it, since the first screening reached capacity before she got inside. 'I didn't think I would like the movie,' Mary said. 'But after standing in line for the first screening, we decided we were going to stick it out and see it,' Melissa said. And they both kind of enjoyed the film. 'I knew it was going to be a comedy, but this was really a dark comedy, and I like dark humor,' Mary said."
Access the article -- which has been picked up by a number of other papers -- at the Charlotte Observer's Web site.
Yesterday, four DePauw students who are enrolled in the Winter Term project, "Cool Japan! Its Language and Culture," were featured in a photograph that was published on the front page of the Japan Times.
Winter Term at DePauw began in 1971, when Buckminster Fuller and Aaron Copland visited the Greencastle campus. Read more in this previous story.
Back