Cathy Day '91 is "An Incredible Writer," Declares Pulitzer Prize-Winner Richard Russo
January 21, 2008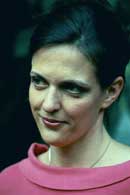 January 15, 2008, Greencastle, Ind. - "A book that I have been going back to is Cathy Day's The Circus in Winter, a series of stories about the Ringling Brothers Circus," Richard Russo tells New Jersey's Newark Star-Ledger. Russo, the Pulitzer Prize-winning novelist (Empire Falls) was asked what he's currently reading. Of Day, a 1991 graduate of DePauw University, Russo tells the newspaper, "She's just blowing me away. She's such an incredible writer, and the stories are just stunning. They are offbeat stories that read like a novel. I highly recommend them."
Access the column at the newspaper's Web site.
The Circus in Winter appeared on at least two "Best of 2004" lists, received praise in numerous media outlets and was one of three finalists for the Story Prize.
"I was born in Peru, Indiana, former winter quarters for the Hagenbeck-Wallace Circus," Day said of her first book. "I grew up listening to stories about the days 'when the circus came to town.' Whenever I told people about Peru -- how my great great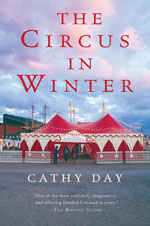 uncle had been killed by an elephant, how my neighbors once shot themselves out of cannons -- I usually got strange looks. But my teachers at DePauw knew there was a story there. I don't know if I would have written The Circus in Winter without the encouragement of DePauw faculty members. They taught me to see my hometown with a writer's eyes." Read more here.
On January 29, Simon & Schuster's Free Press will publish Cathy Day's second book, Comeback Season: How I Learned to Play the Game of Love.
Learn more about the upcoming release and its author, who teaches writing at the University of Pittsburgh, in this previous story.
Back