Cincinnati Enquirer Column on Golf Show Quotes Prof. Tom Chiarella
January 20, 2008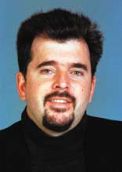 January 20, 2008, Greencastle, Ind. - A story in the Cincinnati Enquirer on the golf show at Duke Energy Center borrows a quote from author Tom Chiarella. "You gotta figure even monkeys can putt," the DePauw University professor once wrote. "Give 10,000 monkeys 10,000 putters and at least one of them is going to nail a 90-foot snake through a double break." To that, the Enquirer's Paul Daugherty writes, "Damn straight, pards."
"We golfers are suckers, the biggest," declares Daugherty. "We think we can buy a better game. We seriously believe we are 500 bucks from cutting our handicap in half. Even if we're a 26. We golfers will stride into the show this weekend, into a room the size of Arnie's charisma. We will be overwhelmed by the choices of clubs. The whiff of steel and
graphite and titanium will hit us like perfume in May. It smells like hopeless optimism."
View his column at the newspaper's Web site.
Chiarella, visiting professor of creative writing at DePauw, is fiction editor of Esquire magazine. His books include Thursday's Game: Notes from a Golfer with Far to Go, which Sports Illustrated.com called a "holiday must-buy" in 2004.
Just yesterday, Tom Chiarella was quoted in a New York Times story on haggling.
Two articles written by Tom Chiarella, a member of the DePauw faculty since 1988, are among the "40 Film Journalism Must-Reads & Sees of 2007," according to ShortEnd magazine. Learn more in this previous story.
Back