Prof. Ken Bode to Discuss 'Primary Reform, the People, and the Press' at National Archives
January 23, 2008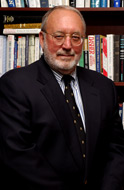 January 23, 2008, Greencastle, Ind. - Ken Bode, Eugene S. Pulliam Distinguished Visiting Professor of Journalism at DePauw University, will be among the panelists who discuss election issues at the National Archives on Thursday, January 31. Bode, former CNN and NBC correspondent, will discuss "Back Rooms to Ballot Boxes: Primary Reform, the People, and the Press" in a 7 p.m. program in the William G. McGowan Theater.
Other panelists will be American Conservative Union president David Keene and veteran journalist, author, and columnist Jules Witcover. The session will be moderated by the Newseum's Frank Bond.
A synopsis of the program states, "Major primary reform in the 1970s ushered out an era of political power brokers deciding the fate of candidates. What happened 30 years ago that fundamentally changed the nature of Presidential elections? How have big money, political ads, and blogs influenced primaries? How well have journalists helped voters understand the election process? And why do we have so many primaries and caucuses with New
Hampshire and Iowa leading the pack? The National Archives in partnership with the Newseum presents a program that explores the history of the primary system, citizen participation, and the impact of the media." Read more here.
The National Archives is located on Constitution Avenue between 7th and 9th Streets, NW, in Washington, D.C. Visit the National Archives Experience online.
A member of the Indiana Journalism Hall of Fame, Ken Bode is a frequent contributor to the Indianapolis Star. Read about his recent op-ed on the 2008 presidential campaign in this previous story.
Back