"The Model of a Student-Athlete," Brad Stevens '99 is Subject of AP Profile
January 21, 2008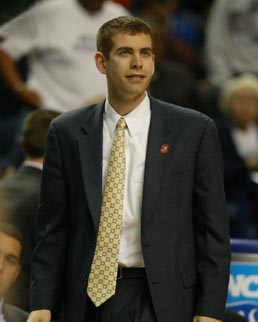 January 21, 2008, Greencastle, Ind. - "Brad Stevens looks like just another Butler player. He's tall, slender, has short hair and a teenager's face," begins an Associated Press article on the 1999 DePauw University graduate. "Instead of jogging onto the court at Hinkle Fieldhouse in a blue or white uniform, however, Stevens arrives wearing a spotless suit and a conservative tie. Only then do people realize the 31-year-old Stevens actually coaches the Bulldogs."
The story is the latest in a string of features to spotlight Stevens, who has Butler University's men's basketball team off to a 17-2 start and ranked #15 in the nation.
"A former Indiana high school star who played college ball at DePauw, Stevens became the nation's third-youngest coach in April when Todd Lickliter departed for Iowa," notes the AP. "Truth is, Stevens has changed little at Butler. Like his predecessors Barry Collier, Thad Matta and Lickliter, Stevens relies on the same deliberate offense, harassing defense and careful ball-handlers who
have created havoc for big-name opponents for years." (at right: Stevens in action as a student-athlete at DePauw)
Barry Collier, athletic director at Butler and former head men's basketball coach for the Bulldogs, is asked if Stevens is on track to become a household name. "He's halfway through his first season, so I think history will bear that out. What counts to me is that he has a sense of what's most important and that's mentoring players and the model of a student-athlete."
Read the full text at Sports Illustrated.com.
An economics major and Management Fellow at DePauw, Brad Stevens was featured in the January 5 New York Times. He's also been the subject of more recent columns in the Cleveland Plain Dealer and Indianapolis Star.
Back