Author Cathy Day '91 Will Discuss Her Comeback Season in a Series of Appearances Next Week
January 23, 2008
January 23, 2008, Greencastle, Ind. - "Cathy Day has never played on the field with Peyton Manning or the other Indianapolis Colts players," begins a story in today's Lafayette Journal and Courier. "But she's had plenty of fumbles, incompletes and false starts in another, and some would argue equally difficult, game -- the dating game. Those follies set the stage for a new book by Day, a Peru, Ind., native transplanted to Pittsburgh and a staunch Colts fan. In Comeback Season: How I Learned to Play the Game of Love (Simon and Schuster's Free Press, 2008), Day compares her quest as a 37-year-old single woman navigating the dating scene to the Indianapolis team's journey to the 2007 Super Bowl."
A 1991 graduate of DePauw University, Day tells the newspaper, "It seemed like a pretty goofy idea -- to put football and love together -- but for some reason, at that time in my life, in my mind it made perfect sense."
The article includes praise for Day's new book, which will be released next week, from Bich Minh Nguyen, who is teaching creative nonfiction at Purdue University. She calls Comeback Season an "irresistible read," adding, "With frankness and verve, Cathy Day navigates online dating, location blues, and other hurdles that single professional women face ... She'll speak about her new book Monday as part of Purdue University's Literary Reading Series."
Read the complete text at the newspaper's Web site.
Cathy Day, who teaches writing at the University of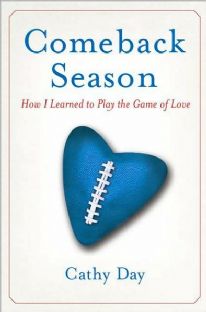 Pittsburgh, will present a series of readings and media appearances in Indiana next week in addition to her Purdue appearance:
Tuesday, January 29, 8 a.m., guest on WXIN/FOX 59's morning news program; 7 p.m., appearance at Barnes & Noble, 14709 U.S. Hwy. 31 North, Carmel, Indiana, (317) 844-2501
Wednesday, January 30, 6 p.m., appearance at Blue Crew Sports Grille, 7035 E. 96th Street, Fishers, Indiana, (317) 536-8282
Saturday, February 2, 4 p.m., interview on WFYI/NPR (90.1 FM)'s Art of the Matter
Read more about Comeback Season in this previous story.
Cathy Day's first book, The Circus in Winter, appeared on at least two "Best of 2004" lists, received praise in numerous media outlets and was one of three finalists for the Story Prize.
Back