Jules Witcover and David Keene to Discuss Politics in April 9 Crain Lecture
April 2, 2008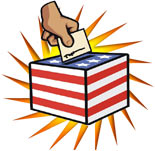 April 2, 2008, Greencastle, Ind. - Two respected veteran political observers will come to DePauw University on Wednesday, April 9, for the fifth and final Gertrude and G.D. Crain Jr. Lecture of this semester. Journalist and author Jules Witcover and David Keene, chairman of the American Conservative Union, will join Ken Bode, Eugene S. Pulliam Distinguished Visiting Professor of Journalism, in a discussion. The program begins at 4:15 p.m. in the Pulliam Center for Contemporary Media's Watson Forum and is presented free of charge.
Jack Germond, who was originally scheduled to appear with Keene, is now unable to appear.
Jules Witcover is a veteran newspaperman who, over a half-century-long career, has written for the Baltimore Sun, the now-defunct Washington Star, the Los Angeles Times, and the Washington Post. For more than 24 years, he and Germond co-wrote "Politics Today," a five-day-a-week syndicated column. Witcover's books include Very Strange Bedfellows: The Short and Unhappy Marriage of Nixon & Agnew; The Making of an Ink-Stained Wretch: Half a Century Pounding the Political Beat; No Way to Pick a President: How Money and Hired Guns Have Debased American Elections; Marathon: The Pursuit of the Presidency 1972-1976; and several books with Germond, among them, Mad As Hell: Revolt at the Ballot Box 1992 and Blue Smoke & Mirrors: How Reagan Won and Why Carter Lost the Election of 1980.
David Keene has been to campus for Crain Lectures on October 23, 2006; April 5, 2006; and April 26, 2004. The American Conservative Union is the nation's oldest and largest grassroots conservative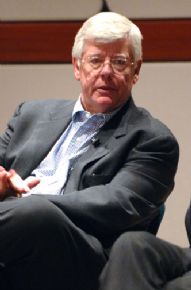 organization. Keene also serves as a lobbyist with the Carmen Group, a governmental affairs and legislative relations firm based in Washington, D.C. David Keene has been involved in presidential politics since 1968. He worked in the White House during the Nixon administration as political assistant to Vice President Spiro Agnew and on Capitol Hill as executive assistant to Senator James L. Buckley. As southern regional coordinator for Ronald Reagan in 1976 and national political director for George Bush in 1980, Keene won recognition for his skill as a political organizer and strategist. He also served as a senior political consultant to Republican presidential candidate Robert Dole in 1988 and was an informal advisor during the 1996 campaign. Keene has been a John F. Kennedy Fellow at Harvard University and was a visiting professional scholar at the Freedom Forum First Amendment Center at Vanderbilt University.
Endowed by Rance Crain, president of Crain Communications and a member of DePauw's Class of 1960, The Gertrude and G.D. Crain Jr. Lecture Series honors Mr. Crain's parents. FOX News Channel chief White House correspondent and 1992 DePauw graduate Bret Baier (pictured below right)
was a guest of the series on March 17. Richard M. Cohen, author of Strong at the Broken Places: Voices of Illness, a Chorus of Hope, spoke February 11. David W. James, Assistant United States Secretary of Labor for Public Affairs and 1994 graduate of DePauw University, was a February 18 guest, while March 5 brought Peabody Award-winning documentary film producer David C. Taylor to campus.
Previous Crain Lecturers have included: Sarah Shepherd, senior producer for CNN's Larry King Live and 1997 graduate of DePauw University; Tim McCaughan, senior White House producer for CNN and 1993 graduate of DePauw University; Roger Wilkins, a noted civil rights leader, historian, and Pulitzer Prize-winning journalist; Father Richard P. McBrien, Crowley-O'Brien Professor of Theology at the University of Notre Dame and a consultant to ABC News for papal events; political analyst Charlie Cook; Wall Street Journal reporter and 1996 DePauw graduate Aaron Lucchetti; military sociologist Charles Moskos; Samantha Power, author of A Problem from Hell: America and the Age of Genocide; historian Douglas Brinkley, author of Tour of Duty: John Kerry and the Vietnam War; and Joe Trippi, who managed Howard Dean's presidential campaign.
Back