Mary Meeker '81 Praises Outgoing eBay CEO Meg Whitman
January 26, 2008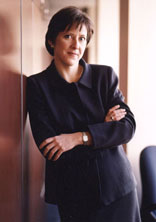 January 26, 2008, Greencastle, Ind. - In a conference call this week with Meg Whitman, who is stepping down as president and CEO of eBay, Mary Meeker said, "Thank you for building such a great business." Meeker, managing director of Morgan Stanley and 1981 graduate of DePauw University, added, "It has been really inspiring to watch." The comment is reported in a story by the UK's Guardian.
Whitman has led eBay since 1998. Andrew Clark writes that she "is renowned for her down-to-earth style. She has an M.B.A. from Harvard, she is married to a brain surgeon and she was ranked by Fortune magazine last year as the third most powerful businesswoman in the world. With a personal fortune estimated at $1.3 billion, Whitman is a prominent Republican and is co-chair of finance for Mitt Romney's presidential campaign."
Access the article at the newspaper's Web site.
Meeker -- who has been dubbed "Queen of the Internet" -- "is absolutely first rate when it comes to spotting big-picture trends before they come into focus," wrote Andy Serwer in Fortune in 2006.
Mary Meeker spoke at the Symposium for DePauw Entrepreneurs on October 6, 2001. A story that includes video and audio clips from her presentation can be accessed here.
Back