Giuliani NJ Campaign Co-Chair Bob Franks '73 "Hopeful"
January 26, 2008
January 26, 2008, Greencastle, Ind. - "Clearly the strategy was to plant the flag there (in Florida) and build on that established momentum on Super Tuesday," Bob Franks, co-chair of Republican presidential candidate Rudy Giuliani's New Jersey campaign and 1973 graduate of DePauw University, tells Associated Press. "It's a strategy they had to pursue, and we are hopeful of the outcome." (top photo: Bob Franks; below right: Rudolph Giuliani)
Franks, who served four terms in the U.S. House of Representatives, is quoted in a story that examines Tuesday's "crucial test" for Giuliani in Florida, as well as how "Giuliani's seemingly insurmountable lead in New Jersey" has evaporated.
For the former mayor of New York City, AP notes, "victory is no longer assured anywhere -- not even his in home state or its closest neighbors. Even Giuliani's ability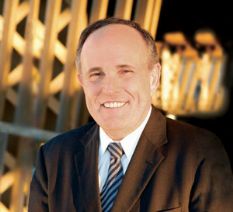 to remain in the race through Super Tuesday is in doubt."
Franks asserts, "If Giuliani can prevail in Florida, I think he will be back in a matter of hours. He will have demonstrated that his campaign strategy was successful in translating his message into votes."
Read the complete story at the New York Daily News' Web site.
Earlier this month, New Jersey Governor Jon Corzine called upon Bob Franks -- his opponent in a 2000 U.S. Senate race -- to help him with a debt reduction and fiscal restructuring plan for the state. Details can be found in this January 9 article.
Back