Cathy Day '91 Discusses Comeback Season on TV News Program as Book is Released
January 29, 2008
January 29, 2008, Greencastle, Ind. -
[Download Video: "The Concept" - 1719kb] "It happened purely by accident," Cathy Day says of the idea for her new book, Comeback Season: How I Learned to Play the Game of Love. On Indianapolis FOX affiliate WXIN's morning news program today, the 1991 DePauw University graduate explained, "I was in Pittsburgh when the Colts lost to the Steelers in that heartbreaking playoff game two years ago. And I had to watch Pittsburgh celebrate at that victory and just be this lone Colts fan there. At the same time they had experienced that loss I had lost another game in the game of love."
Day continued, "It was very much like the Colts -- up until last year -- they would get to the playoffs and lose, and I would get to the playoffs of love and lose. So, I said, if they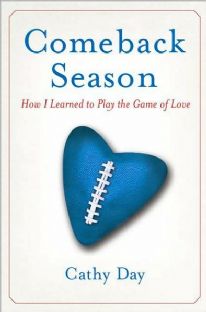 can come back after this, I can, too. It's kind of goofy, but I decided that I'm gonna try really hard over the course of a season to see if I can change my life. And I did."
In Comeback Season, published by Simon and Schuster's Free Press and arriving at bookstores today, Day "compares her quest as a 37-year-old single woman navigating the dating scene to the Indianapolis team's journey to the 2007 Super Bowl," according to the synopsis.
[Download Video: "The Game Plan" - 973kb] "A football game is 150 plays, approximately, and there's only about four or five plays in a football game that make the difference between winning and losing," Day explained on the TV program this morning. "So I went all out on every play, just like football players do. You don't know which thing that you're going to try -- which different avenue you take, which new person you talk to -- is gonna lead to something. That was one of the ways I incorporated football into my love life."
Cathy Day's first book, The Circus in Winter, appeared on at least two "Best of 2004" lists and was one of three finalists for the Story Prize. Of that work, Pulitzer Prize-winning novelist Richard Russo recently said, "She's just blowing me away. She's such an incredible writer, and the stories are just stunning. They are
offbeat stories that read like a novel. I highly recommend them."
Day, who teaches writing at the University of Pittsburgh, says she learned some lessons from living and writing about her Comeback Season.
[Download Video: "Lessons Learned" - 976kb] "You know, the movies make us think that if there's not that, you know, big kiss at the end ... or a big win at the end, that things don't matter as much, and that's not true. Life does not happen like a movie, and that's the most important thing that I learned." Day also came away from the experience with the knowledge that, "Just like the Colts lost that heartbreaking game to the San Diego Chargers, they're gonna come back, they're gonna try again, and that's what people have to do, too, no matter what happens."
Cathy Day is making several appearances in Indiana over the next few days:
Tuesday, January 29, 7 p.m., book signing at Barnes & Noble, 14709 U.S. Hwy. 31 North, Carmel, Indiana, (317) 844-2501
Wednesday, January 30, 6 p.m., book signing at Blue Crew Sports Grille, 7035 E. 96th Street, Fishers, Indiana, (317) 536-8282
Saturday, February 2, 4 p.m., interview on WFYI/NPR (90.1 FM)'s Art of the Matter
Read more about Comeback Season in this previous story.
Source: WXIN (Fox)/Indianapolis
Back