"A New Hallmark of Palestinian Suffering Has Been Reached," Writes UNRWA Chief Karen Koning AbuZayd '63
January 30, 2008
January 30, 2008, Greencastle, Ind. - "Gaza is on the threshold of becoming the first territory to be intentionally reduced to a state of abject destitution, with the knowledge, acquiescence and -- some would say -- encouragement of the international community," writes Karen Koning AbuZayd in the UK's Guardian. "An international community that professes to uphold the inherent dignity of every human being must not allow this to happen," adds AbuZayd, commissioner-general of the United Nations Relief and Works Agency (UNRWA) and 1963 graduate of DePauw University.
"Across this tiny territory, 25 miles long and no more than 6 miles wide, a deep darkness descended at 8pm on January 21, as the lights went out for each of its 1.5 million Palestinian residents. A new hallmark of Palestinian suffering had been reached," the op-ed continues.
AbuZayd oversees the UN agency that provides humanitarian assistance to Palestinians in the West Bank and Gaza. Due
to border closures, AbuZayd writes, "Palestinians are effectively incarcerated." Medication is hard to come by and hospitals are in need of modern equipment and are vulnerable to power outages, she reports.
"Living standards in Gaza are at levels unacceptable to a world that promotes the elimination of poverty and the observance of human rights as core principles: 35% of Gazans live on less than two dollars a day; unemployment stands at around 50%; and 80% of Gazans receive some form of humanitarian assistance," she writes. "As the head of a humanitarian and human development agency for Palestinian refugees, I am deeply concerned by the stark inhumanity of Gaza's closure. I am disturbed by the seeming indifference of much of the world as hundreds and thousands of Palestinians are harshly penalised for acts in which they have no part."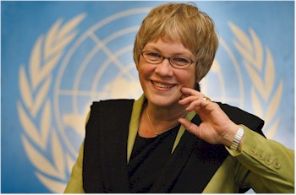 Although power had been restored as AbuZayd's column went to press, the UNRWA leader notes, "The people of Gaza have been spared from reaching new depths of anguish -- but only for the moment. There has never been a more urgent need for the international community to act to restore normality in Gaza. Hungry, unhealthy, angry communities do not make good partners for peace."
Read the complete essay at the Guardian's Web site.
Karen Koning AbuZayd delivered the commencement address to DePauw's Class of 2007 last May. Learn more about her in this previous story.
Back