Why Aren't Presidential Candidates Discussing the Environment?, Asks Prof. Bruce Stinebrickner
January 30, 2008
January 30, 2008, Greencastle, Ind. - "What has happened to global warming as an issue in the presidential nomination process?," asks Bruce Stinebricker, professor of political science, in today's Indianapolis Star. In an op-ed, he writes of debate questions and the media's "extensive commentary about campaigns, strategies and candidates' policy positions on such issues as the economy, the Iraq war, terrorism, immigration, health care, taxation, energy independence and the like. But what has happened to global warming? It has all but disappeared from the campaign agenda."
Dr. Stinebrickner asserts, "The United States stands alone as the only industrial nation in the world that has not ratified the Kyoto Protocol of 1997, an international effort to slow the rate of carbon emissions before global warming becomes irreversible. In November, Australian voters ranked global warming as one of their top concerns and unseated longtime incumbent Prime Minister John Howard. Howard's replacement, Prime Minister Kevin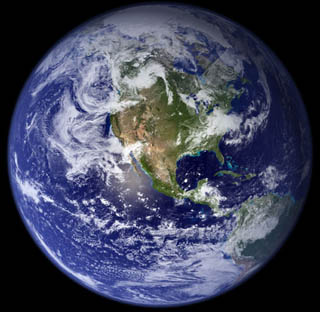 Rudd, fulfilled his campaign promise and moved quickly to ratify the Kyoto Protocol."
Yet despite the Academy Award and Nobel Prize that greeted Al Gore's 2006 film, An Inconvenient Truth, discussion of environmental issues by this year's presidential candidates has been minimal, argues the professor.
"According to the League of Conservation Voters, in 140 debates and interviews since early 2007, five top TV interviewers (Tim Russert, Chris Wallace, George Stephanopoulos, Bob Schieffer and Wolf Blitzer) have asked 2,484 questions of presidential candidates, and they have mentioned global warming only three times and asked only 24 questions related to the issue," notes Stinebrickner, who holds a University Professorship at DePauw. What's equally worrisome: the candidates themselves aren't bringing up environmental issues, he states.
"Global warming is among the most daunting challenges facing the United States and the world and perhaps the most important issue of all," asserts the political scientist. "Some people no doubt disagree. But should issues and policies related to global warming simply be ignored as Americans select the next president?" He concludes, "In a campaign in which candidates have been asked their views about evolution, gay marriage, UFOs, and, in one case, whether diamonds or pearls were preferred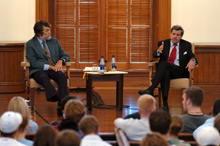 (yes, a debate moderator posed this question to Hillary Clinton in a nationally televised debate!), global warming and climate change deserve far more attention than they are getting." (at left: Prof. Stinebrickner moderating a student forum with 2004 Ubben Lecturer L. Paul Bremer III)
Read the complete essay at IndyStar.com.
Bruce Stinebrickner recently wrote another newspaper op-ed about his first-hand observations of the Iowa caucuses. You can access the column via this previous story.
Source: Indianapolis Star
Back