"Superdelegates" Should Not Endorse Candidates Early, Prof. Ken Bode Tells Nevada Newspaper
January 31, 2008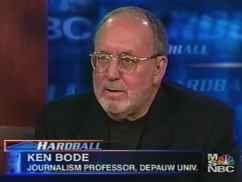 January 31, 2008, Greencastle, Ind. - A story in today's Reno News & Review examining the role of "superdelegates" in the Democratic Party's presidential nomination process includes the insights of DePauw's Eugene S. Pulliam Distinguished Visiting Professor of Journalism. "Ken Bode of DePauw University, who served on two Democratic Party delegate selection rule-setting commissions and was research director of a third, says the early endorsements of candidates by [U.S. Rep. Shelley] Berkley and the others is not the role envisioned for the unelected delegates," writes Dennis Myers. "[Nevada Attorney General Catherine] Cortez Masto is closer to the original template."
Congresswoman Berkley and other Nevada politicians are listed in the article along with the presidential candidates they've already aligned themselves with. Cortez Masto is among those taking a "wait and see" attitude.
Myers notes, "'Superdelegates' were invented by the Democratic Party after the 1980 election to allow party leaders to influence— -- don't say rig -- a presidential nomination if a candidate not favored by the party establishment is in the ascendancy by having delegate votes held by party regulars and elected officials, free of the influence of party primaries or caucuses. Where most delegates to the national convention are elected by party conventions or by the voters, 'superdelegates' become delegates by virtue of their offices ... About a fifth of all delegates to the national convention in Denver this year will be superdelegates ... An Associated Presssurvey said 200 of the unelected delegates support Clinton, 114 favor Obama and 32 are committed to John Edwards."
"I mean, the idea was that they are ballast," Professor Bode tells the newspaper. "They have the right to commit themselves, but the idea was that they would be the kind of people who would be there because of their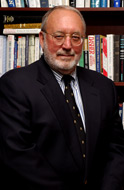 position, their judgment, their experience, their wisdom, what have you. And if they're committed early that kind of takes away the original motive for them."
Read the complete story at the News & Review's Web site.
Ken Bode, a former CNN and NBC correspondent, will be among the panelists who discuss election issues at the National Archives today in a 7 p.m. program, "Back Rooms to Ballot Boxes: Primary Reform, the People, and the Press." Learn more in this previous article.
Read Bode's January 25 Indianapolis Star op-ed on Democrats Hillary Clinton and Barack Obama by clicking here.
Back