Prof. Stanley Warren Appointed Associate Dean of the University
June 15, 1989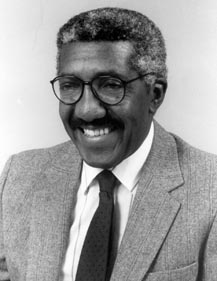 June 15, 1989, Greencastle, Ind. - Stanley Warren, an education professor at DePauw since 1973, has been appointed associate dean of the University. In his new role, Dr. Warren will be responsible for minority student academic issues, long-range planning for minority student affairs, freshman orientation, the faculty advising system, and the Common Experience Winter Term for freshmen.
"These programs can contribute much to the vitality of the University," says Warren. "I look forward to helping develop policies that will strengthen the institution in terms of educational opportunities for minority students and the student body as a whole."
Other new programs will assist low-income students who wish to spend a semester or Winter Term off campus and provide special tutorials, workshops and pre-orientation programs for at-risk first year students. The goal is to
further enhance DePauw's efforts to diversify its student body, faculty and academic curriculum.
"We're pleased that we have such a well qualified person for this position," notes Fred Silander, vice president for academic affairs at DePauw. "Dr. Warren has been working on a number of these issues already, and he is capable of bolstering the University's efforts to deal with these issues."
The new position and associated programs have been established through a $243,000 grant from The Joyce Foundation. The grant is intended to assist DePauw in the development of programs to enhance the University's recruitment and retention of students from low-income families.
Stan Warren joined the DePauw faculty in 1973, and served as director of black studies from 1973-79. He has also been a lecturer on
African-American history at Indiana University and is widely published. His awards and honors include Carnegie Fellow, John Hay Fellow, Lilly Fellow, and a National Endowment for the Humanities Faculty Fellowship. He is a member of the board of trustees of the Indiana Historical Society.
Located in Chicago, The Joyce Foundation makes grants to non-profit organizations in the fields of conservation, culture, economic development, education, government and health.
Learn more about Professor Stanley Warren in this previous story.
Back