Fred Lamar Appointed University Chaplain
June 28, 1974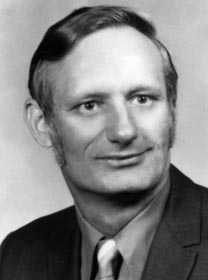 June 28, 1974, Greencastle, Ind. - Fred Lamar today was appointed chaplain and assistant professor of education at DePauw University. The 40-year-old Alabama native has been serving as Protestant chaplain at the University of Missouri campus at Rolla the past nine years.
Dr. Lamar assumes duties previously performed by Marvin Swanson, University chaplain, and the Rev. Steve Edington, campus minister. Lamar will also serve as operational liaison between the University and Indiana's United Methodist Church.
Dr. Swanson will continue his full-time responsibilities as assistant dean in the office of international studies. Rev. Edington has completed his three-year appointment as campus minister.
Lamar earned an A.B. in history and speech from the University of
Alabama in 1954, graduating with Phi Beta Kappa honors. He later received the B.D. at Vanderbilt University, the S.T.M. and D.Min. degrees at Eden Theological Seminary, and Ph.D. at St. Louis University.
He served parish ministries and as civilian chaplain in Bynum and Fultondale, Alabama between 1959 and 1965 and then joined the staff of the United Ministries in Higher Education at the University of Missouri-Rolla as Protestant chaplain.
The focus of Fred Lamar's ministry at Missouri was in developing moral and social awareness through a program of student service projects and informal discussions. Under his guidance, students applied classroom knowhow to such practical and human problems as maintenance, design and rehabilitation of church camps and facilities, involvement in urban problem solving, low-income housing needs, and meeting transporation requirements.
Professor Lamar has been instrumental in gaining funding to support numerous experimental education projects. He has presented papers on the projects before the American Society of Engineering Education, International Association for Housing Science, the annual convention of the National Campus Ministry, and for the Carnegie Foundation for the Advancement of Teaching. His campus ministry has received commendations from the White House Committee on Student Unrest, the National Junior Chamber of Commerce, the National Center for Voluntary Action, the St. Louis Urban League, and the division of campus ministry of the General Board of Education of the United Methodist Church.
The Danforth Foundation awarded Lamar a Danforth Campus Ministry Fellowship in 1971. That same year, he received the Baker Award from the division of campus ministry from the United Methodist Church.
Back