Total Applications Top 4,000; International Applicants Up 243%
February 5, 2008
February 5, 2008, Greencastle, Ind. - Total applications for enrollment to DePauw University in the fall have eclipsed 4,000 and the number of applications completed by international (non-U.S. citizen) students is up 243%. "We've extended the application deadline to February 15 because of the flurry of activity we're seeing," says Stefanie Niles, vice president of admission and financial aid. "It is shaping up to be a robust conclusion to another very fine year for the University."
As of February 1, a total of 4,040 applications had been received by DePauw, slightly higher than the 3,994 that had come in by the same period a year ago. The 2008 number is the second-highest in the last four years.
International students have completed 168 applications at this juncture, compared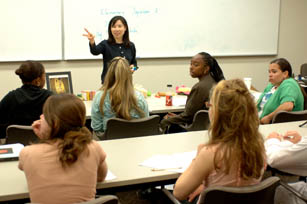 with 49 a year ago.
"Our efforts to increase international matriculants, a key tenent of the University's Strategic Plan, are clearly making a difference," says Niles. "Our goal is to create a liberal arts campus environment that reflects the global society our students will live and work in, and we're making exciting inroads toward achieving that.
The DePauw University School of Music had received 279 applications, a 13% increase from the 247 a year earlier. Four-hundred-fifty applicants are seeking Ruth Clark and Philip Holton Memorial Scholarships, while another 198 are seeking the LEAD (Leadership, Education, and Diversity) scholarship.
The number of young scholars submitting "early decision" applications by the November 1 deadline saw a 33% climb. Early decision is an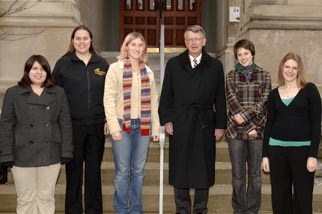 option for students who, early in their senior year, are sure that they wish to enroll at DePauw. By applying early decision, a student states that DePauw is their first-choice university and, if accepted, will attend DePauw and withdraw all applications pending elsewhere. (at left: President Robert G. Bottoms with a group of Rector Scholars)
"We're in the home stretch of a process that has presented DePauw with a very impressive group of young scholars," says Niles. "Almost to a one, these are students who have excelled in their high schools and been active participants in extracurricular activities and in the affairs of their communities. My staff is putting in long hours reading, reviewing and responding to applications, and as we near the end of the application season, we look forward to hearing from students as they make their final
decisions."
The 2007 National Survey of Student Engagement (NSSE) finds that students at DePauw University are more academically engaged -- in and out of the classroom -- than undergraduates at peer institutions and the national average. The Open Doors 2007 report says that DePauw continues to be one of the top colleges in the United States for the percentage of students who study abroad.
Prospective students who would like more information are invited to visit the admission office online.
Back