Former VP Dan Quayle '69 Foresees "Very Competitive" Presidential Race
February 6, 2008
February 6, 2008, Greencastle, Ind. - Dan Quayle, the 44th Vice President of the United States and 1969 graduate of DePauw University, predicts that once the two parties' nominees finally emerge, the 2008 presidential election will be "a very competitive race." In a pre-Super Tuesday interview with Salt Lake City CBS affiliate KUTV, Quayle says even though "most of the political pundits have written off the Republican Party ... I say not just yet, hold on a second."
Quayle, who served two terms in both the U.S. Senate and House of Representatives, continues, "Yes, we have a lot of challenges yes the incumbent president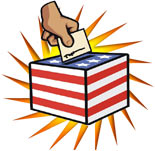 doesn't have a high approval ratings but this is a long way from being over. They've written off the Republican Party in the past and we've come back. You'll see a very spirited campaign between the Republicans and Democrats."
A transcript of the interview can be found at the television station's Web site.
Learn more about Dan Quayle, currently global chairman of Cerberus Capital Management, in this recent story.
Back