"Let the Convention Decide" Democratic Contest, Prof. Ken Bode Writes
February 8, 2008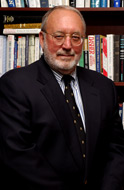 February 8, 2008, Greencastle, Ind. - "It's over," as far as the race for the Republican presidential nomination is concerned, says Ken Bode. For the front-runner and presumptive GOP nominee, John McCain, "the tasks ahead ... are not that pleasant, but not that difficult," offers Bode, the Eugene S. Pulliam Distinguished Visiting Professor of Journalism at DePauw University.
Writing in today's Indianapolis Star, Dr. Bode says of McCain, "Conservatives don't like him for good reasons," which he enumerates. "But they'll all come around when they consider the alternatives."
The professor, former senior political analyst for CNN, points out, "McCain is being urged to put Mike Huckabee on the ticket as vice president. That might mollify the evangelicals, but consider the rest of the country.
Are we ready for a 72-year-old president with a vice president who doesn't believe in evolution?"
On the Democratic side, Bode provides some history on how the move away from winner-take-all primaries and caucuses -- a result of reforms enacted in the 1960s -- has kept the contest closer than it would be otherwise.
He notes that the creation of "superdelegates" -- composed of elected officials and party insiders -- was done with the notion "that they would arrive at the convention uncommitted, make well informed and sophisticated judgments, choose able leaders, write better platforms." Instead, argues Bode, "What superdelegates did this year really was more predictable. When Hillary Clinton was perceived as the all-but-certain winner, she scooped up pledges of support from the superdelegates, whose appetites are mainly to be close to the eventual nominee as early as possible. Barack Obama has some, and some remain unpledged (as intended). But the bulk of the superdelegates are in Hillary's pocket."
As a result, Obama is beginning to talk about whether superdelegates should follow the will of the state's voters, and not their own, and the Democratic Party's chairman,
Howard Dean, "is hinting that if there isn't a definitive result in the next round of primaries, he may intervene with the two candidates and try to arrange an agreeable outcome. Party leaders don't like long, untidy nominating fights," Bode asserts. "But if Dean designates himself the backroom broker after the tremendous outpouring of popular support on both sides, he will be making a huge mistake. Why not let the convention decide?"
Access the complete essay at College News.org.
In his opinion column last Friday, Ken Bode wrote about Strong at the Broken Places: Voices of Illness, a Chorus of Hope, the new bestseller by Richard M. Cohen, who will visit DePauw Monday. Learn more in this previous story.
Source: Indianapolis Star
Back