Poynter Institute's Bob Steele '69 Coming to DePauw as Pulliam Visiting Professor of Journalism
February 11, 2008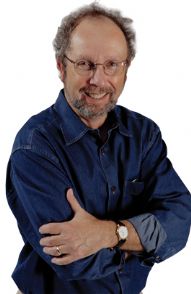 February 11, 2008, Greencastle, Ind. - Bob Steele, Nelson Poynter Scholar for Journalism Values and the Senior Faculty in Ethics at The Poynter Institute and 1969 graduate of DePauw University, will return to his alma mater as Eugene S. Pulliam Distinguished Visiting Professor of Journalism. Steele, a Poynter faculty member since 1989, will continue to represent the Institute as one of the nation's leading experts on ethics in journalism.
Steele will begin his duties at DePauw -- which will also include teaching in the University's department of communication and theatre and service at the new Janet Prindle Institute for Ethics -- in the fall. He replaces Ken Bode, the veteran journalist and current Pulliam Visiting Professor, who is retiring at the end of the current academic year.
Bob Steele's wife, Carol, will join the DePauw administration as associate dean of academic affairs.
"I'm thrilled to be returning to my alma mater to take on significant roles in working with students, faculty and alumni of DePauw," says Bob Steele. "I'm honored to assume the Pulliam Professorship and to build on the legacy of Ken Bode's contributions. I'm enthused about collaborating with President Bob Bottoms in his new role as Chancellor and director of the Janet Prindle Institute for Ethics. And both Carol and I are excited to become members of the DePauw community and to contribute in many ways. We'll give our very best." Steele adds, "I'm also pleased that I'll continue important work with The Poynter Institute in service to journalism professionals across the country and around the world. The DePauw-Poynter connection has great promise."
"Bob Steele's wisdom, insights and sound judgments have informed newsmakers and consumers of information for many years, and I am delighted that our campus community will now benefit from his thoughtful presence," says DePauw President Robert G. Bottoms.
"One of the true joys of leading this University has been to see people who studied here and went on to do great things in life return to campus to do for a new generation of students what their professors did for them. Bob will be an enormous asset to our students and faculty, and adds an important and influential voice to our increasing focus on ethics."
Steele has taught hundreds of workshops and thousands of journalists and media leaders. He's also led ethics and values sessions for nearly 100 news organizations across the country including newspapers, television stations, and broadcast and newspaper groups. He is frequently on the phone or online guiding and coaching journalists and media leaders -- including DePauw student media organizations -- on real-time ethical dilemmas and leadership challenges. He also has advised many news organizations on their codes of ethics and standards and practices guidelines. And, he's been on the receiving end of thousands of interviews by reporters who are covering journalism ethics issues.
"While Poynter will lose Bob on a daily basis, we will retain his distinctive voice part-time in his role as Nelson Poynter Scholar for Journalism Values," says Karen Brown Dunlap, president and managing director of the Institute. "He and Dean Keith Woods have arranged for Bob to continue as co-leader of the Ethics Fellows program and critical issues conferences, among other things."
Dr. Dunlap adds, "Bob's work here has been tremendous. In nearly two decades he built our Ethics program and helped shape Poynter. I can understand why, at age 61, he looks to the next phase of life and is drawn to serving young people and honoring another school that is important to him. I know he will return to Poynter often, but I will miss Bob."
"When there's a question about whether a story should be covered or the method in which it was handled, Bob Steele is -- if you will -- the go-to guy," says Neal B. Abraham, vice president for academic affairs and dean of the faculty at DePauw. "His presence as a faculty member at DePauw will enrich the dialogue and contribute to the pedagogy of our campus culture, and he will continue to be an important and influential voice -- for DePauw and The Poynter Institute -- on matters of media ethics around the country. Bob has been a frequent visitor to campus over the years, as well as a valued consultant, and we're thrilled that he and Carol have decided to make DePauw and Greencastle their home."
Steele co-authored Doing Ethics in Journalism, published by the Society of Professional Journalists (which was founded at DePauw in 1909), and he has authored
articles, case studies and handbooks for a number of professional organizations and academic journals. He began his professional career in Bangor, Maine in 1973 as a news reporter for WLBZ-TV. He spent a decade as a reporter, executive producer and news director in Maine, Wisconsin and Iowa. He taught ethics, reporting and media law for five years in the department of journalism at the University of Maine. He has also served on the advisory board for DePauw's Eugene S. Pulliam Center for Contemporary Media.
After receiving a B.A. in economics from DePauw, Bob Steele earned his M.S. in television-radio from Syracuse University and the Ph.D. from the University of Iowa, writing his dissertation on journalism ethics. Last May, he received an honorary Doctor of Journalism degree from DePauw, and was awarded an honorary Doctor of Humane Letters degree from Emerson College in Boston in 2006. He served in the U.S. Army from 1969-1972, including ten months as a Signal Corps officer in Vietnam.
Bob Steele offers his thoughts on his return to DePauw in this essay posted at Poynter.org, where you can also read a statement from Poynter President Karen Brown Dunlap.
Back