DePauw Named to President's Higher Education Community Service Honor Roll
February 11, 2008
February 11, 2008, Greencastle, Ind. - The community service efforts of DePauw students have earned the University a place on the second annual 2007 President's Higher Education Community Service Honor Roll. The list was unveiled today at the annual meeting of the American Council on Education.
In all, 528 schools were listed on the Honor Roll for their community service activities during the 2006-2007 academic year. DePauw and 126 other schools were listed as Honor Roll With Distinction members, with another 391 schools cited as Honor Roll members.
Launched in 2006, the President's Honor Roll recognizes institutions of higher education that support innovative, effective, and exemplary community service programs. The Honor Roll is jointly sponsored by the Corporation for National and Community Service's Learn and Serve America program, as well as the Department of Education, the Department of Housing and Urban Development, USA Freedom Corps, Campus Compact, and the President's Council on Service and Civic Participation.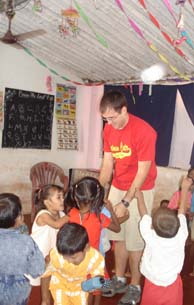 "College students are tackling the toughest problems in America, demonstrating their compassion, commitment, and creativity in by serving as mentors, tutors, health workers, and even engineers," says Liz Seale, chief operating officer of the Corporation for National and Community Service. "They represent a renewed spirit of civic engagement fostered by outstanding leadership on caring campuses."
Access the list of honorees by clicking here.
A recently-completed study found that in 2006, 2.8 million college students gave more than 297 million hours of volunteer service with a value estimated at more than $5.6 billion.
The 2007 National Survey of Student Engagement (NSSE) finds that by the time DePauw students are seniors, 92% have participated in community service or volunteer work. Learn more about student outreach efforts in this previous story.
Back