Bestselling Author Richard M. Cohen Shares Stories of "Coping and Flourishing" in Crain Lecture
February 11, 2008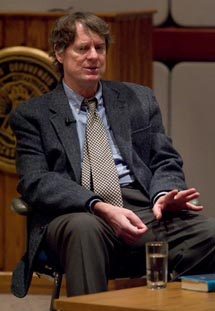 February 11, 2008, Greencastle, Ind. -

[Download Audio: "The Lesson" - 96kb] "This is a book about flourishing," says Richard M. Cohen, author of Strong at the Broken Places: Voices of Illness, a Chorus of Hope. In a Gertrude and G.D. Crain Jr. Lecture at DePauw University this afternoon, Cohen stated, "This is a book about rising above illness and having the life you want."
The three-time Emmy Award winner's text, which was released January 2, tells the story of five ordinary people trapped in the complex world of serious chronic illness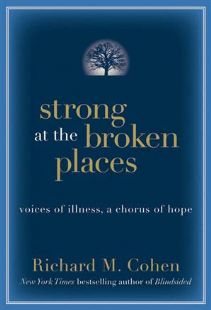 .

[Download Audio: "A Culture in Denial" - 237kb] "We live in a culture where people don't want to deal with illness," Cohen told a crowd that filled the Pulliam Center for Contemporary Media's Watson Forum. "We live in a culture of beauty and physical perfection and very unrealistic ideas about what life should be for people. So, the idea of writing a book about five sick people was a little bit counterintuitive."
Cohen, who himself struggles with multiple sclerosis, authored the 2004 memoir, Blindsided: Lifting a Life Above Illness. Of Strong at the Broken Places, he says,

[Download Audio: "Selling the Concept" - 436kb] "Frankly, I was a little surprised that HarperCollins let me do the book. And to this day I'm convinced that it was only because my previous book reached #4 on the [New York Times'] bestseller list. You know, when you have a bestseller, you're a person," Cohen noted as the audience and moderator Ken Bode, Eugene S. Pulliam Distinguished Visiting Professor of Journalism at DePauw, chuckled. "I'm serious. Publishers don't treat writers very well. Blindsided ... took a sixty-page proposal and a lot of begging. And this took, like, a five-page memo and whatever."
A former senior news producer for CBS and CNN, Cohen says his new work

[Download Audio: "Grabbing Your Life" - 131kb] "is not a clinical book, and this is not a sad book. This is a book about coping,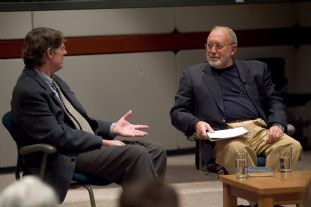 this is a book about how you can grab your life and go with it and make it work for you to the best of your abilities."
While Strong at the Broken Places -- #10 this week on the New York Times list of top non-fiction books -- offers inspiration to those with illnesses such as muscular dystrophy and ALS, the author hopes it can also provide new insights to all readers.

[Download Audio: "The Chronically Healthy" - 188kb] And for all of you out there who are chronically healthy -- and I'm happy for you, to an extent," he said to chuckles, "you don't necessarily understand what it's like to deal with illness and how illness can take over your life."
In today's world of managed care and corporate hospitals, Cohen
says,

[Download Audio: "The Patient Voice" - 427kb] "the patient voice is reduced to a whisper. It's just like nobody hears us."
He also told a story of how, when boarding an Amtrak train, he and two others had to listen as an agent shouted into her walkie-talkie, "I have three canes; I'm going to board the canes." Displaying his typical wit, Cohen handed the woman his cane. After telling the tale recently on Don Imus' radio program, Cohen says he was called by the president of Amtrak.

[Download Audio: "Amtrak" - 481kb] "And I said, look, she wasn't being malicious, she wasn't trying to hurt people, go easy on her. The larger problem is how we are objectified by everybody out there."
The veteran journalist says although his publisher thought he would have a problem finding others who would share their stories of living with chronic illnesses, the five individuals he approached initially for the project all consented to be included in the book. Cohen says people "were empowered to talk because somebody is listening, and in the end we're gonna reach people with this."
Cohen was asked if the fact that he is battling a chronic illness made his subjects more apt to talk with him.

[Download Audio: "Drawing Sustenance" - 563kb] "I didn't see it, and I don't see it, as a pedigree," he said. "I see it as a sensibility, a shared sensibility. I think people who deal with illness on a day-to-day basis relate to other people who are sick. I think that people draw sustenance from each other." Several of the individuals wanted to read Blindsided before consenting to the project, and Cohen says that book "was revealing enough of me and my life and my approach that it would be instructive to them in making that decision."
Richard Cohen was joined during the Crain Lecture by Buzz Bay, who has non-Hodgkin's lymphoma and lives in Franklin, Indiana, and is one of the five individuals whose stories are told in Strong at the Broken Places(the two are seen in the photo above left).
Endowed by Rance Crain, president of Crain Communications and a member of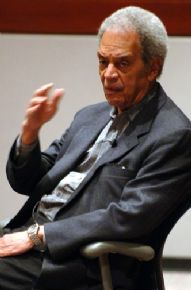 DePauw's Class of 1960, and moderated by Professor Ken Bode, the Gertrude and G.D. Crain Jr. Lecture Series honors Mr. Crain's parents. Previous Crain Lecturers have included: Indiana Governor Mitch Daniels; David Keene, chair of the American Conservative Union; Roger Wilkins (pictured at right), a noted civil rights leader, historian, and Pulitzer Prize-winning journalist; military sociologist Charles Moskos; Pulitzer Prize-winning novelist Richard Ford; political analyst Charlie Cook; FactCheck.org director Brooks Jackson; historian Douglas Brinkley, author of Tour of Duty: John Kerry and the Vietnam War; Father Richard P. McBrien, Crowley-O'Brien Professor of Theology at the University of Notre Dame and a consultant to ABC News for papal events; political analyst Charlie Cook; Wall Street Journal reporter and 1996 DePauw graduate Aaron Lucchetti; veteran political columnist Jack Germond; Samantha Power, author of A Problem from Hell: America and the Age of Genocide; Emily Wax, Africa bureau chief of the Washington Post, and her husband, Raymond Thibodeaux, who also covers the region for Cox News, Voice of America and the Boston Globe; and Joe Trippi, who managed Howard Dean's presidential campaign.
The next Crain Lecture, on February 18, will feature David W. James, Assistant United States Secretary of Labor for Public Affairs and 1994 graduate of DePauw University. Learn more in this story.
(photos by Alex Turco)
Back